Ruta Meilutyte: Lithuanian focused on world short course titles
Last updated on .From the section Swimming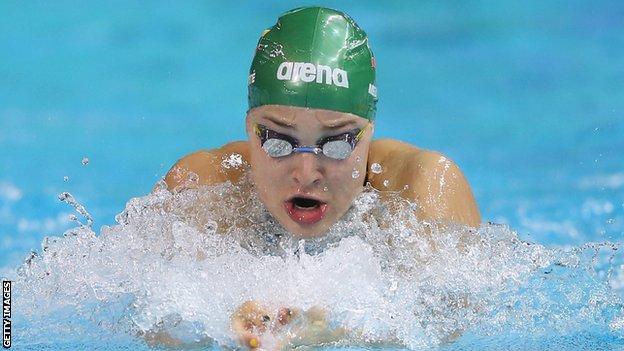 Olympic breaststroke champion Ruta Meilutyte says she is looking to avenge her World Cup losses to Jamaica's Alia Atkinson at this week's World Short Course Championships in Doha.
Atkinson beat the Plymouth-based Lithuanian in three of their last four World Cup meetings.
"I am a pretty bad loser, but it was a kick in the butt and gave me more focus in training," Meilutyte said.
"My form's definitely improved through the season and I'm ready to race."
The 17-year-old, who won also won Youth Olympic gold in China this summer and is the reigning short course world champion at her chosen disciplines of 50m and 100m breaststroke.
Atkinson overcame the 50m long course world record holder in both disciplines at the final World Cup meeting in Singapore last month, having also beaten Meilutyte over 100m in the previous meeting in Tokyo.
"It's harder to stay at the top than to get to the top," Meilutyte, a long course world record holder and world champion in told BBC South West.
"It is really hard but I'm just trying to stay focused and am trying to improve myself as much as I can."
Meilutyte's coach, Jon Rudd, believes she can retain the world short course titles she won two years ago in Istanbul as she starts to prepare to defend her Olympic title in Rio.
"Ruta's still the fastest swimmer in the world, and is the fastest swimmer every to swim the event in a short course pool," said Rudd.
"But you can't win everything all of the time, it all depends on which athletes are taking which events more seriously.
"But it's great that there's someone there to challenge her, particularly now that the main challenger at the moment.
"Someone coming along once in a while and beating her doesn't do her any harm at all - it makes her focus."