Unwell Ross Murdoch pulls out of Scottish Championships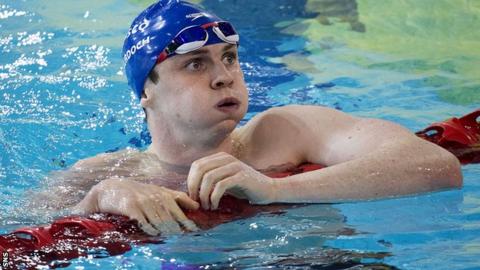 Commonwealth gold medallist Ross Murdoch will not compete at this weekend's Scottish Short Course Swimming Championships in Edinburgh.
The 20-year-old has not recovered from a chest infection in time for the event at the Royal Commonwealth pool.
Murdoch tweeted that he is "gutted" to miss out but will be there to cheer on fellow Scots such as Hannah Miley and Dan Wallace.
University of Stirling swimmer Murdoch scooped two medals at Glasgow 2014.
He beat fellow-Scot and Olympic silver medallist Michael Jamieson in the 200m breaststroke to win gold.
And he also claimed bronze in the 100m breaststroke.
The Scottish Short Course Swimming Championships are held from 12 December to 14 December.