Swimming: Hannah Miley chases Olympic medal dream
Last updated on .From the section Swimming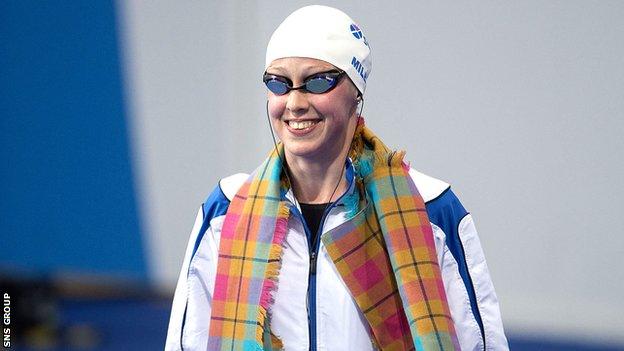 Hannah Miley hopes to make it third time lucky with a medal at next year's Olympic Games in Rio.
The European and Commonwealth 400m individual medley champion finished sixth on her Olympic debut at Beijing 2008 and was fifth at London 2012.
"I've won a medal at every major championships there is for swimming but the Olympics have eluded me," she said.
"That's the target. Whether I can get on the podium or not - that's the dream to chase."
The 25-year-old Scot is busy preparing for the World Championships trials in April.
"It will be tough, the world moves forward every year and you have to stay ahead," she told BBC Scotland.
"To make the World Championships team this year is harder than making the London 2012 team."
As she has done throughout her career, Miley continues to do the bulk of her training in Inverurie's 25m pool, overseen by her father, Patrick.
"It's a kind of a little bubble and it keeps you away from the politics of what sometimes goes on with the swimming governing bodies," she said.
"And you're not distracted by the hustle and bustle of trying to do too many things.
"It's nice just to be left alone to carry on with your training in peace and quiet."
Miley won two medals for Scotland at last year's Commonwealth Games in Glasgow, having reached six different individual finals as well as the 200m freestyle relay final.
"The 400 IM is like spinning four plates and you've got to keep all four going - if you concentrate on just one, another will drop off," she explained.
"So I have to swim all the 100s and 200s and the longer distances to keep up my ability on each stroke and my endurance.
"It also allows me to have something else to focus on.
"I see them as opportunities to get out and swim fast and see if I can make a progression."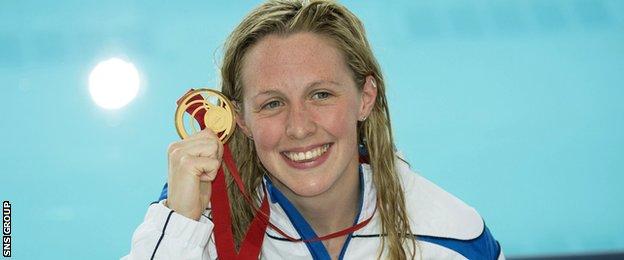 At the age of 25, many female swimmers are considering retirement but Miley is simply focused on this summer's World Championships in Kazan, Russia, and Rio.
"I'll keep going until I stop enjoying it," she adds. "I can't put a limit on it. It could be after Rio, it could be after the [Commonwealth Games] Gold Coast in 2018.
"You won't know until it happens to you and you think 'I'm done'.
"I'm taking each competition as it comes and giving it my all.
"Then I'm asking myself am I still enjoying it, can I keep improving? And if the answer is yes to both, then I keep going."
You can hear more of Hannah Miley's interview with BBC Radio Scotland's Geoff Webster on Sunday Sportsound from 12:00 BST.