Ruta Meilutyte: Olympic champion focused on defending gold medal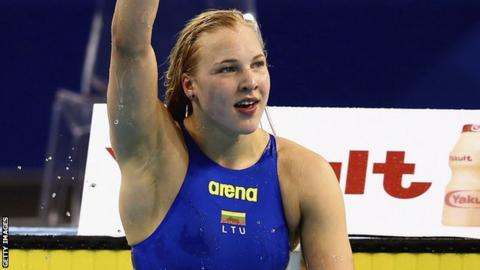 Olympic 100m breaststroke champion Ruta Meilutyte says she is solely focused on defending her title in Rio de Janeiro.
The 18-year-old from Lithuania, who trains and lives in Plymouth, as a 15-year-old in London.
But she has gone on to and in both the 50m and 100m breaststroke.
"Ever since London finished my goal was Rio, this four years, step-by-step we're working towards that," she said.
"Every training session and every day I look at the countdown, I check the days and every day we always think about it," added the Plymouth College student.
Meilutyte holds her national record for every stroke over 50m, as well as 100m freestyle and the 200m individual medley and is a
She is also the only swimmer in history to hold Olympic, World and European titles at both senior and youth level at the same time, after completing her set with victory at the Youth Olympic Games in Nanjing last year.
But despite that pedigree she knows it will be hard to retain her titles, with Meilutyte's next major event being the World Championships in the Russian city of Kazan at the end of July.
"It's never easy and there's always new people that come through," she told BBC South West.
"I need to focus on my performance. We've started off the year pretty well and I'm very positive about the summer.
"Alia Atkinson is very strong, but there's also other girls out there who are very strong - Rikke Pedersen from Denmark and a few others.
"It's going to be a tough fight. But I know I'm getting better and I know where to improve and know my strengths and weaknesses and am working on them," she added.