Medals not a priority for Hannah Miley ahead of Championships
Last updated on .From the section Swimming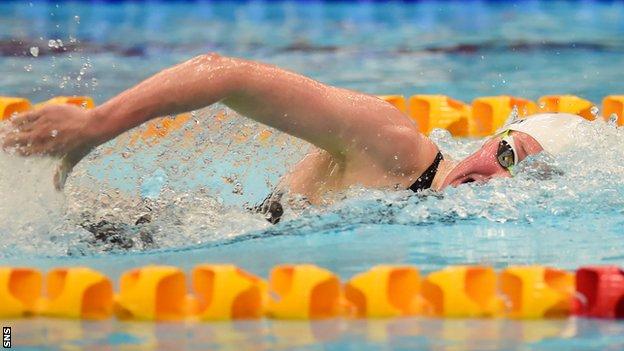 Hannah Miley says she is nearing her peak ahead of the British Swimming Championships, but is not focused on winning a string of medals.
The Commonwealth Games gold medallist is not yet sure how many events she will enter, but has made the 400m individual medley her priority.
"I've been able to hit times that have been faster than last year," she said.
"I am entered into a lot of swims, but whether I swim them or not it really depends on how day one goes."
The Inverurie swimmer is searching for her ninth 400m IM title but with the British Championships doubling up as the trials for this summer's World Championships in Russia, Miley is determined not to burn herself out.
"I've got the 200m butterfly, so I'll see how that goes. I've also entered the 400m freestyle and 200m breaststroke," said the 25-year-old.
"The priority for me is the 400 IM on the last day. It's good to race and get into the competition, but I need to remember my focus is on the last day and I don't want to burn myself out for that.
"The qualifying times are very hard to get, so it is do or die and you've got to put everything on the line.
"One thing you can't control when you're swimming is the time.
"Making the Worlds team is definitely the target. If something happens and that's not the case then it's not the end of the world.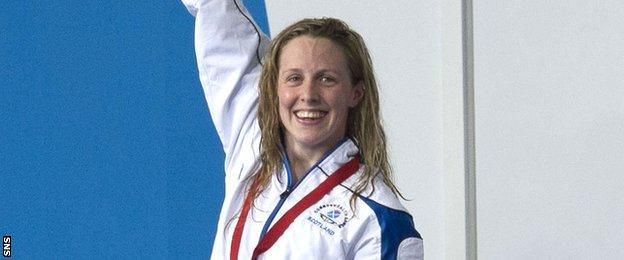 "I've still got another year to qualify for Rio. I know from watching the other trials that have been going on there have been a few big names who've not made the teams."
Miley set a Games record of four minutes, 31.76 seconds in Glasgow last year, before adding 200m IM bronze two days later.
She said: "It's given me a huge confidence booster because I didn't know how it was going to go.
"The whole year was basically turned upside down. I wasn't swimming the times I was expected to swim.
"Even racing at the trials last year, I was hoping for a quicker time and couldn't go any quicker than a 4:45, so it put me in a lot of doubt.
"So, once I raced it, it just reaffirmed that my body was in a position to race at its peak in the summer time.
"What that all means, I do not know until I actually start racing, but it gives us a guideline and indicator of where I can try to get my peak performances and make sure I hit them right on the right day.
"That's really the tricky part. You can do all the training in the world, but it's a matter of getting that precise moment of when you're at your peak."