British Swimming Championships: Adam Peaty wins 200m gold

By Nick Hope
BBC Olympic sports reporter in London
Last updated on .From the section Swimming
Sprinter Adam Peaty claimed a shock 200m breaststroke victory on the opening night of the British Swimming Championships in London.
Peaty, 20, won European and Commonwealth 100m breaststroke titles and set a 50m world record in breaststroke events during 2014.
His time of two minutes, 8.34 seconds saw him finish ahead of Andrew Willis and pre-race favourite Ross Murdoch.
Olympic silver medallist Michael Jamieson was sixth.
The 2015 British Championships are the first time the London Aquatics Centre has been used for elite swim racing since the 2012 Olympic Games.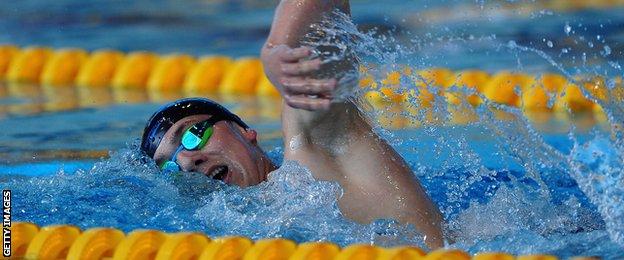 And while Peaty secured his place on the GB team for this summer's World Championships in Kazan, Russia, Willis and Murdoch will have to rely on discretionary places - decided by a selection committee in the coming weeks.
"All those golds from last year mean nothing now because you have to start again," Peaty told BBC Sport.
"I stayed relaxed throughout the race and then turned it on at the end and the adrenaline carried me through."
Jamieson is likely to miss the World Championships - completing a disappointing 12 months for Scotland's Commonwealth Games poster boy, who finished second to Murdoch in Glasgow.
English Commonwealth champion Chris Walker-Hebborn's winning time of 52.88 seconds in the 100m backstroke was the fastest time in the world this year and secured him a World Championships berth.
"Results last year gave me a massive confidence boost," said Walker-Hebborn, after beating Liam Tancock and Craig McNally.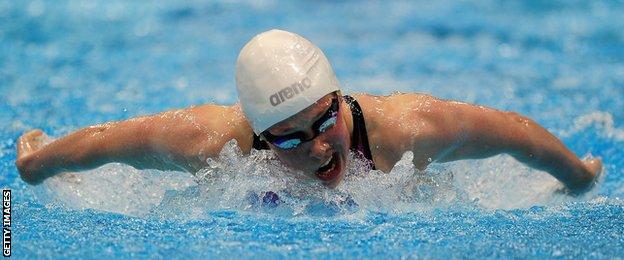 "But this is just the start, I want to go out to the World Championships and put on a real show there as well."
James Guy was the only other swimmer to secure a Kazan qualifying time, winning the 400m freestyle in a new British record of three minutes, 44.16 seconds.
Nicholas Grainger and Daniel Wallace claimed the respective silver and bronze medals.
Siobhan-Marie O'Connor, who won six Commonwealth medals for England last year, inflicted a first British 100m freestyle defeat on Francesca Halsall since 2008.
O'Connor, who specialises in the 200m individual medley, finished in 53.83 seconds.
There was also a surprise win for Hannah Miley in the 200m butterfly, where the Scottish swimmer beat Jemma Lowe of Wales and England's Aimee Willmott.
"To be honest I'm shocked at that," admitted Miley.
"People say I can't do fly and I'm usually behind after the butterfly in the individual medley races, but I've been putting in a lot of work on it and that's paid off."