British Swimming Championships: Michael Jamieson explains slump
Last updated on .From the section Swimming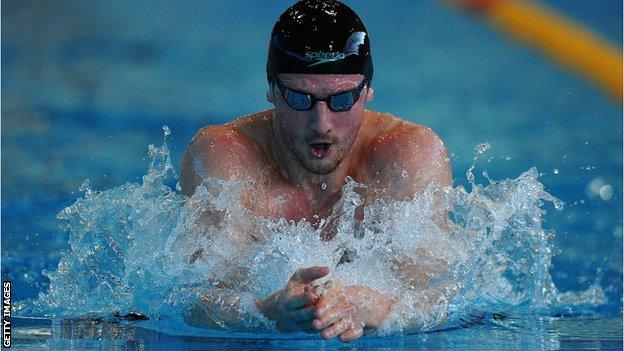 Olympic silver medallist Michael Jamieson says "self-doubt" is behind the poor form that looks like costing him a place at the World Championships.
He was favourite to secure gold at the Glasgow Commonwealth Games last summer but ended up winning silver in his home city behind compatriot Ross Murdoch.
"The way I reacted to results last year was completely over the top," he said.
"I just blew it all out of proportion and ended up taking a huge break from the pool. I took too long to get over the disappointments of last year."
Jamieson stressed there were "no excuses" for his time of two minutes, 10.96 seconds at the London Aquatic Centre, which left him well adrift of winner Adam Peaty and third-placed Murdoch.
Peaty's time of two minutes, 8.34 seconds means his Team GB place for the World Championships in Kazan, Russia in August is secure.
Willis and Murdoch will have to rely on discretionary places - decided by a selection committee in the coming weeks - with Jamieson missing out.
"I was always up against it," Jamieson told BBC Sport. "The last four weeks or so I've been doing some really quick stuff in training - not far off what I've done in the past.
"But it's kind of been one-off reps that I've been able to do that and I've not been able to put them back to back, which represents that fitness element.
"I just don't have the block of work behind me that I usually do at this time of year."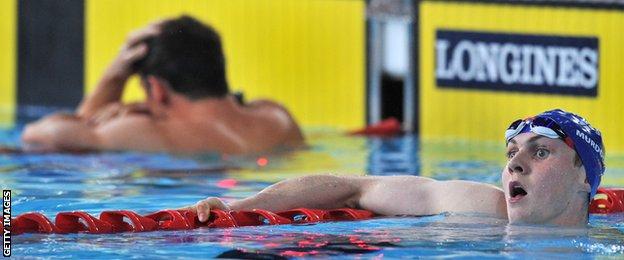 Glaswegian Jamieson burst on to the scene at the 2012 Olympics in London, winning silver in the 200m breaststroke with a time of 2:07:28.
He fears a place on Team GB at the 2016 Olympics could be in jeopardy and admits the recent deterioration in his form is "psychological".
"I don't think it's a negative thing to admit that," he explained. "Athletes go through that all the time.
"I enjoy swimming fast and love training hard, but when you're not getting the targets you want, it just gets a bit more difficult and self-doubt creeps in more and more.
" It's not like I've lost ability, I'm still capable of swimming 2:06 and I'm still capable of going 2:07 with a good block of work behind me.
"But I just haven't done that over the winter. I didn't get back in the water properly until November and that's a huge break to have.
"I just need to straighten a few things out outside of the pool and I'll be back in the mix. If I'm going to be in Rio then I need to find out a way to do that."