Michael Phelps targets Rio 2016 Olympics
Last updated on .From the section Swimming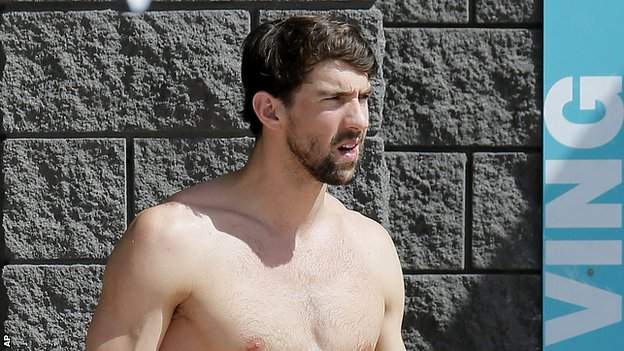 Eighteen-time Olympic champion Michael Phelps says he wants to compete at Rio 2016, after serving a six-month ban.
He entered a short-lived retirement after London 2012, but will now bid to reach a fifth Olympic Games.
"You guys heard it here first," he told reporters at Arizona's Skyline Aquatic Centre, where he will be competing for the first time since his suspension.
"I am looking forward to next year. I don't think it's too hard to really realise why I came back."
Golden boy Phelps's glittering record
58 gold medals: 18 Olympic, 27 World Championship, 13 Pan Pacific
11 silver medals: 2 Olympic, 6 World Championship, 3 Pan Pacific
3 bronze medals: 2 Olympic, 1 World Championship
Phelps, the most decorated Olympian of all time, will not swim at August's World Championships in Russia, as part of an agreement with USA Swimming alongside his ban.
He will instead race at the US national championships in San Antonio, Texas, taking place at the same time as the Worlds.
"The last couple of months have probably been the hardest I've ever had to go through in my entire life,'' he added.
"I take full responsibility for all of my actions. I've hurt a lot of people and it's been terrible."