Michael Phelps returns from six-month suspension with victory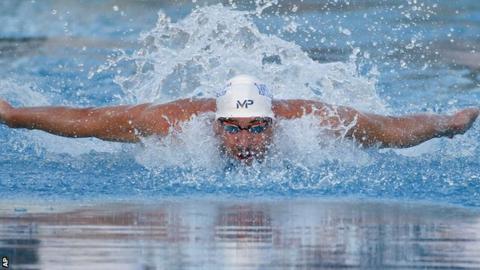 Michael Phelps won his first race back from suspension at the Mesa Pro Series meeting in Phoenix.
The 29-year-old - the most decorated Olympian of all time with 22 medals - was banned for six months in October after being arrested for drink-driving.
But on his return the American clocked 52.38 seconds, ahead of rival Ryan Lochte (53.11), in the 100m butterfly.
It was not amongst the top 10 world times this year but Phelps said: "I hope we'll be able to build and build."
Golden boy Phelps's glittering record
58 gold medals: 18 Olympic, 27 World Championship, 13 Pan Pacific
11 silver medals: 2 Olympic, 6 World Championship, 3 Pan Pacific
3 bronze medals: 2 Olympic, 1 World Championship
Phelps is now bidding to reach a fifth Olympic Games, but will not swim at August's World Championships in Russia as part of an agreement with USA Swimming alongside his ban.
He will instead race at the US national championships in San Antonio, Texas, taking place at the same time as the Worlds.