Michael Phelps fails to make 400m freestyle final after finishing 17th
Last updated on .From the section Swimming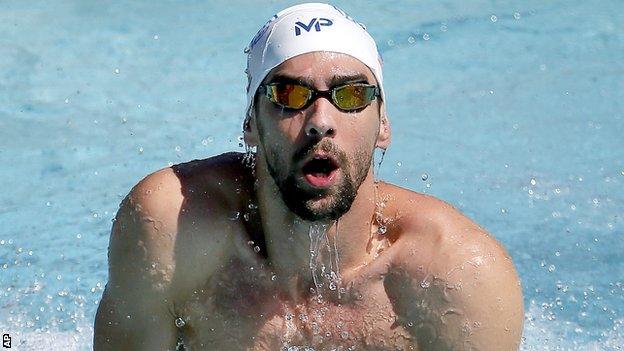 Eighteen-time Olympic champion Michael Phelps failed to qualify for the 400m freestyle final in his first meeting back after a six-month suspension.
The 29-year-old American served a ban after being arrested in September for drink-driving offences.
He won the 100m butterfly in his first race back in Mesa, Arizona on Thursday but was 17th in the 400m freestyle heats in four minutes 2.67 seconds.
That put Phelps in the C final but he elected not to compete in the race.
He also pulled out of the 100m backstroke and will instead focus on Saturday's 200m individual medley and 100m freestyle events.
Phelps, who has won 22 Olympic medals, wants to compete at next year's Games in Rio.