Swimming: Ross Murdoch aims high for World Championships
Last updated on .From the section Swimming
Ross Murdoch believes he can challenge for a medal at the World Championships after setting a new Scottish record in the 100m breaststroke.
"I'll be aiming high. I always do," the 21-year-old told BBC Scotland.
"It would a pretty good feat to achieve the year before the Olympics and I'll be doing everything I can to get on that podium."
Murdoch rose to prominence at last year's Commonwealth Games, winning gold over 200m and bronze in the 100m.
Silver medals in each event followed at the European Championships in Berlin.
He is almost certain to miss out on the 200m in Kazan this summer, having finished third behind Peaty and Andrew Willis in London.
"I had about a month out of the water over November and December [through illness], so I was really pleased with my times," Murdoch explained.
"I'd loved to have got my hand on the wall second in the 200, so I could swim it in the summer but I'm massively pleased with 59.13 and a PB [personal best] in the 100.
"I won the British Championships last year in 59:56 but it took a world record this time from Adam Peaty, so congratulations to him."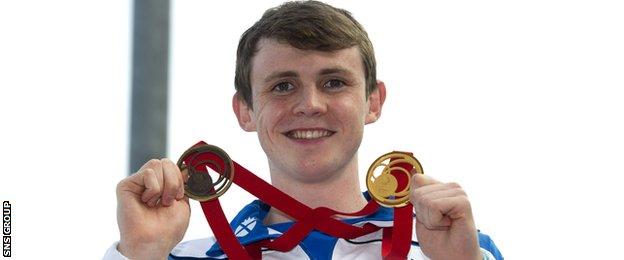 Looking ahead to the World Championships in Russia, Murdoch knows competition will be stiff.
"There's a whole load of guys swimming incredibly quick times," he added.
"There is such depth in the sport and it won't be easy to reach the final.
"So, it's going to be one of the most challenging events of my career."
Olympic silver medallist Michael Jamieson finished sixth in the 200m and will not make the Great Britain team for Kazan.
However, Murdoch believes the 26-year-old fellow Scot can rediscover his best form.
"He's been to the last two World Championships but it comes down to how you race on the day and sport is an unforgiving place," he said.
"Ultimately, he has the fire in him and he'll be back in no time at all."