Ruta Meilutyte 'disappointed' by Russian rival Yuliya Efimova

By Nick Hope
BBC Olympic sports reporter
Last updated on .From the section Swimming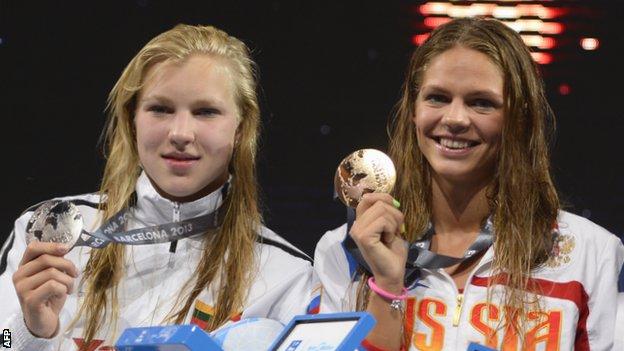 Plymouth-based Olympic champion Ruta Meilutyte says she no longer sees world champion Yuliya Efimova as an "honest competitor" following her doping ban.
The breaststrokers shared one of the biggest rivalries in swimming, with Russian Efimova claiming two golds to Meilutyte's one at the 2013 Worlds.
Her 16-month ban ended in March, and the pair will meet at August's World Championships in Efimova's homeland.
Meilutyte was "really disappointed" when Efimova failed a doping test.
"I used to really respect her as one of my strongest competitors and it was a great rivalry between us, but I don't see her as a true honest competitor any more," added the Lithuanian.
Ruta Meilutyte vs Yuliya Efimova

Meilutyte (Lithuania)

Efimova (Russia)

Age:

18

23

Olympic medals:

One (gold)

One (bronze)

World (LC) medals:

Two (1 gold, 1 silver)

Eight (3 gold)

Euro (LC) medals:

One (gold)

Six (3 gold)

World (LC) records:

Two current

No current

LC = long course (50m) swimming pool
The presence of banned steroid Dehydroepiandrosterone (DHEA) was identified in Efimova's system during an out-of-season test at the swimmer's California base of Trojan in October 2013.
A doping committee panel ruled that, rather than deliberately taking the substance, she had been 'negligent' - not having noticed the substance in a product purchased in a US department store.
Efimova, 23, was allowed to keep the World Championship titles she had won in Barcelona that summer, but was stripped of four European short-course gold medals and four world records attained in late 2013.
Meilutyte, who became 100m Olympic champion at the age of 15, was retrospectively awarded one of the European golds originally given to the Russian.
However, the 18-year-old believes her rival should have served a more severe punishment.
"It's not like she's been in the sport for a year, she's competed for a long time and people know how cautious and careful we need to be with the substances out there," Meilutyte told BBC Sport.
"I think it was quite a short punishment and I think people who take drugs should face harsher consequences."
Since returning, Efimova has posted the quickest times in the world in the 50m and 100m breaststroke this year.
"If anything I'm more motivated because once you do drugs the effects can be for life," said the Lithuanian.
"To beat her again is just going to mean a lot to me because I know I'm clean."
Efimova is one of 20 Russian swimmers to test positive for banned substances since Kazan bid to host the World Aquatics Championships in April 2011.