Rebecca Adlington: I would love my daughter to go into sport
Last updated on .From the section Swimming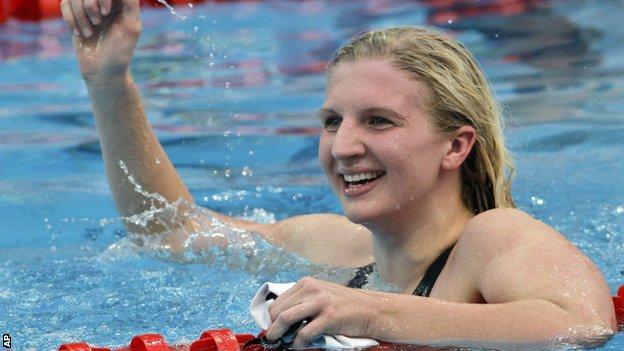 New mum Rebecca Adlington wants her baby daughter to follow her into sport.
The double Olympic champion gave birth on 8 June and said she had already bought her daughter a swimming costume.
Adlington, 26, won two golds in the pool at Beijing in 2008 and two bronzes at London 2012 before retiring in 2013.
She told BBC Radio 4's Desert Island Discs: "I'd love for her to go into the world of sport because I do think sport gives you so much more than medals and everything else."
Speaking in an interview recorded before she gave birth, Adlington, who is married to fellow swimmer Harry Needs, added: "Both me and my husband come from the world of swimming, we've had such a great life, met the best people and we're so grateful for our careers that we would love her to have that."
Since retiring when she was 23, Adlington has set up a programme to help children learn to swim and is mentoring young British swimmers.
She says she has no regrets about quitting at such a young age.
"I loved my time and I loved my career and loved swimming, but it was definitely time for the new generation to come through," she said.
"Even when I was tiny and wanted to be a swimmer, I said I wanted to finish my career on a high and start the new chapter in my life in doing the mentoring and see the team grow ahead of Rio [2016 Olympics]."
Asked how difficult it is to become a top swimmer, Adlington said: "You've got to be tough, you've got to be really resilient. You've got to fight for it. It's not going to be given to you. You're not just going to get handed that medal."