European Games: Austria win synchronised silver after crash
Last updated on .From the section Olympics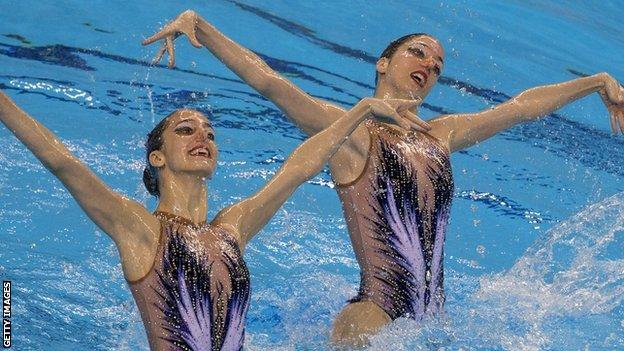 Teenage twins won a silver medal - then dedicated it to two team-mates seriously injured in a bus crash.
Anna-Maria and Eirini-Marina Alexandri, 17, finished second in synchronised swimming at the European Games in Baku, four days after three members of the squad were hit by a bus.
Vanessa Sahinovic - one of the three 15-year-olds hit by the bus - was put in an induced coma after surgery.
Luna Pajer, 15, also returned home for specialist treatment on a broken arm.
"Of course, this for Vanessa and Luna and also for all the other girls in the team. It's for our coaches, for Austria, for our family, for our mother and for all the people who have supported us," Eirini-Marina said.
"We are proud of what we've done. It has been very difficult but we have had very big support from our Olympic committee and Austria."
The pair were second in the duets competition behind Russian duo Valeriya Filenkova and Daria Kulagina.
Coach Albena Mladenova said the duo had "put a smile back after some bad days".
Azerbaijani authorities arrested the bus driver after the incident in the athletes' village.
Austria pulled out of the team event after Thursday's crash. Verena Breit was also hurt, suffering a minor thigh injury.