Island Games 2015: Guernsey swimming records tumble
Last updated on .From the section Swimming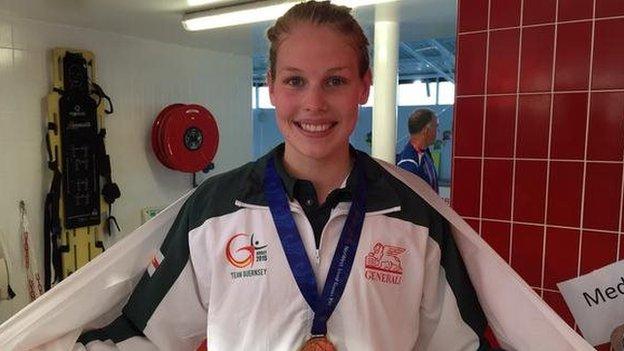 Courtney Butcher broke her own Guernsey record as she won the 100m backstroke at the 2015 Island Games.
Butcher, who swam at last summer's Commonwealth Games, touched home in 1:03.13 to win her first Island Games gold medal for Guernsey.
Teammate Tom Hollingsworth broke the island 100m butterfly mark in finishing third behind Cayman Islands' Olympic swimmers Brett and Shaune Fraser.
He won his second gold medal later in the night in the 4x100m relay.
He led Matthew Girard, Ben Lowndes and Miles Munro to victory over Jersey by 0.64 seconds.
Jersey's Ian Black, who was part of that relay squad, won his third gold medal in the 50m breaststroke.
Black, who won the 100m breaststroke and 4x50m medley relay gold on Monday, beat Faroe Islands' Olympic 1500m swimmer Pal Joensen by 1.39 seconds.

"I couldn't have asked for more, it's perfect at the moment," Black told BBC Jersey.
"I didn't have a great start, but that's sort of the race where you've just got to hold on and hope for the best and just go for it."
Jersey's Tom Gallichan was second in the 200m freestyle as Joensen beat him by over a second to win his third gold of the games.
Elsewhere Jersey teammates Cameron Donaldson and Olivia Pollard both won bronze.
Donaldson was third in the 400m individual medley while Pollard was third in the 50m butterfly.
Pollard was also part of the Jersey 4x50m relay team which won bronze in the final event of the night.