Island Games 2015: Guernsey win three gold medals on final day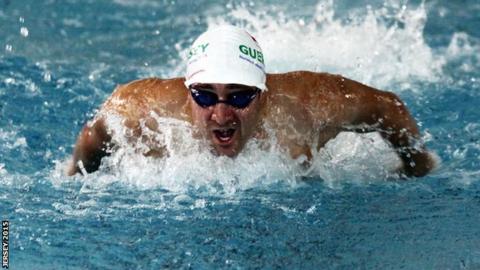 Guernsey won three gold medals on the final day of swimming at the 2015 Island Games in Jersey.
Tom Hollingsworth added two more gold medals to take his tally to four after beating Jersey's Tom Gallichan and Harry Shaloman to 100m backstroke gold.
Gallichan teamed up with Matthew Girard, Ben Lowndes and Miles Munro to win the 4x100m freestyle relay.
Miles Munro took gold in the 50m freestyle, beating Jersey's Garth Jackson by just under a second.
Jersey's team of Ian Black, Cameron Donaldson, Gallichan and Jackson came second to Guernsey in the 4x100m relay, while Giovanni Guarino won bronze in the 200m breaststroke.
Courtney Butcher ended her games with two more silver and bronze medals.
Butcher, who had previously won 100m backstroke gold, won silver medals in the 50m backstroke and 100m freestyle.
She then joined up with her teammates to come third in the women's 4x100m medley relay and the 8x50m mixed relay.
Faroe Islands ended on top of the swimming medals table, taking 10 gold, nine silver and 15 bronze.
Isle of Man were second, Jersey third and Guernsey fourth.