World Championships: Duncan Scott tipped to add to medal haul
By Jane Lewis
BBC Scotland
Last updated on .From the section Swimming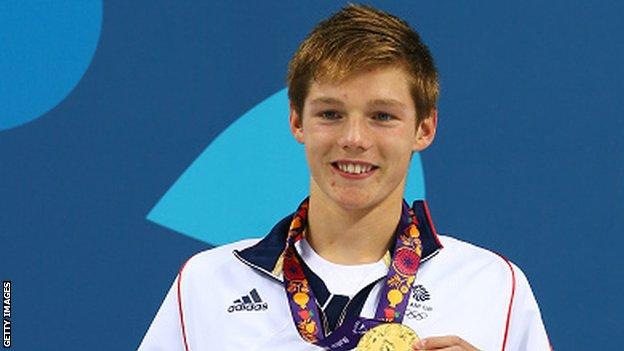 Scottish swimmer Duncan Scott "can go as far as he wants in the sport," according to his coach.
Scott, 18, is one of six Scots heading to the World Swimming Championships in Russia later his week.
He will compete in the 100 and 200m freestyle relays, after winning six medals at the European Games in Baku last month.
And coach Steven Twigg believes Scott has "every possible chance of being extremely successful" in his career.
Scott won gold in the 100 and 200m freestyle and in the 4x100m freestyle relay; and silver in the 4x200m freestyle, 4x100m mixed freestyle, and 4x100m medley.
Tigg, a high performance swim coach at Stirling University, where Scott trains, says the 18-year-old's Baku success was expected as far as he was concerned.
"But Duncan is a modest and humble individual - they [the medals] were probably unexpected to him," he added.
However, despite winning three golds and three silvers in Baku - Scott insists his medal haul has not affected his thinking going in to the worlds, where he's competing in the 100 and 200 metres freestyle relay.
"Funnily enough, I was quite happy with how I was swimming earlier so my confidence was going to be the same because I know that I had the performances in me," he said.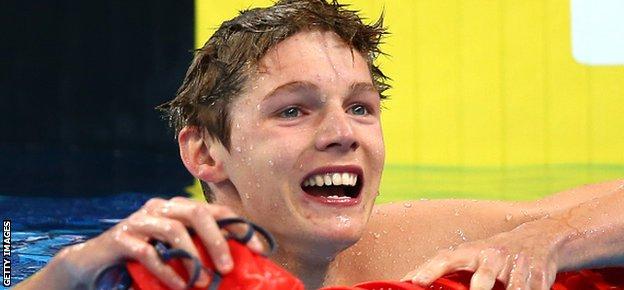 Scott joins his Stirling University team-mates Ross Murdoch and Robbie Renwick in the British team in Russia. Hannah Miley, Dan Wallace and Stephen Milne make up the rest of the Scottish contingent.
The worlds will be a step up from the Baku Games for Scott, but he's hoping to be just as relaxed going in to his events.
"People have different methods before they go up to deal with pressure," he explained.
"For me I just relax in the call room, watch some TV. In Baku, especially in the relays, we mucked around. There were some water bottles and we started chucking them about - but then we got in to trouble so we had to stop."
While the World Championships is Scott's immediate focus, he also has his sights set on the Rio Olympics next summer.
However, he concedes getting selected for that team will be "really hard," adding: "Freestyle is stacked with talent."
"But to get on the team would be a great experience. I just need to work as hard as possible during the year and try to perform when it matters during the 2016 trials."
His coach, though, believes Scott can reach great heights within the sport.
"I've worked with him from a really young age and he's shown signs of talent," Tigg said.
"He's very hard working, he's very modest and actually just loves swimming. He's got every possible chance of being extremely successful and he can go as far as he wants to in the sport."
The world swimming Championships takes place in Kazan, Russia from the 24 July - 9 August.