World Swimming 2015: GB team best ever - Rebecca Adlington
Last updated on .From the section Swimming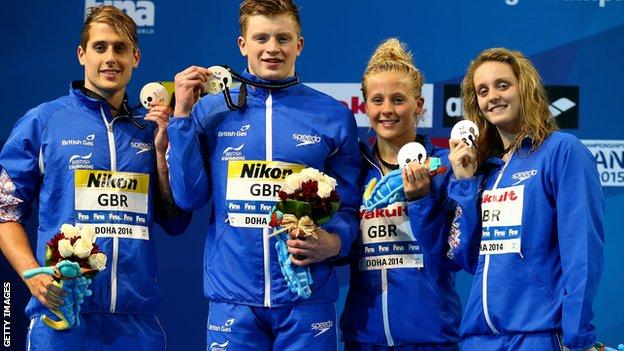 World Swimming Championships
Venue:
Kazan, Russia
Dates:
2-9 August
Coverage:
Live on BBC Two, Red Button, Radio 5 live sports extra, online, tablets, mobiles and BBC Sport app.
Two-time Olympic champion Rebecca Adlington will be a studio analyst and pundit for BBC Sport during live coverage of the 2015 World Swimming Championships in Kazan, Russia. She spoke to BBC Olympic sports reporter Nick Hope about the event.
GB team in best shape ever
I was lucky enough to compete in two Olympic Games and comparing this time to the build-up to Beijing 2008 and London 2012, I think the team is in the best shape it's ever been.
We've always had one or two highly ranked swimmers with the potential to win medals, but now we have so much strength in depth. We're not just looking at individual events like we have done in the past though. For the first time in a long while, the relay team are also strong which makes it such an exciting time.
After London 2012 - where Michael Jamieson won silver and I won two bronze medals - we had a tough 2013 World Championships, with just one bronze. However a record-breaking Europeans and great Commonwealths last year has put the team in a really good place.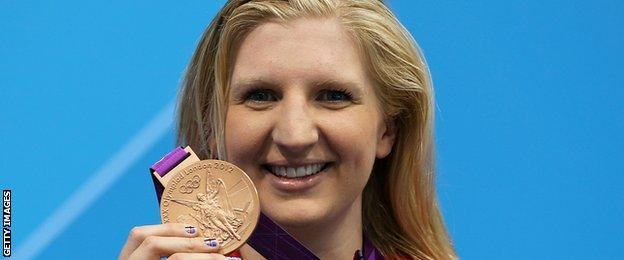 New winning mentality should see targets hit
When I was in the team you wouldn't say 'I'm going to win a medal'. I found it odd when other swimmers were saying it was their 'dream to make the team', whereas surely it's a dream to win a medal?
The mindset has now changed, it's now really focused on hitting targets. That mentality shift has been brought in by my old coach Bill Furniss, who is now British Swimming's head coach and Chris Spice, the national performance director.
In Kazan, UK Sport wants the team to win four to six medals and there's every possibility they can achieve that - they're really focused, but there's also great camaraderie with everyone supporting each other.
How important are the Worlds?
The championships are important because the swimmers haven't raced on a world stage for two years. For those competing at their first Worlds, it's vital to get onto the global circuit and take in the experience.
It's also an important learning curve for the swimmers who haven't travelled far afield for quite some time. With home Olympics and Commonwealth Games and then the 2013 Worlds being in Spain it's been a while since the squad has travelled a big distance, so Russia will to a degree help them prepare for next year in Rio.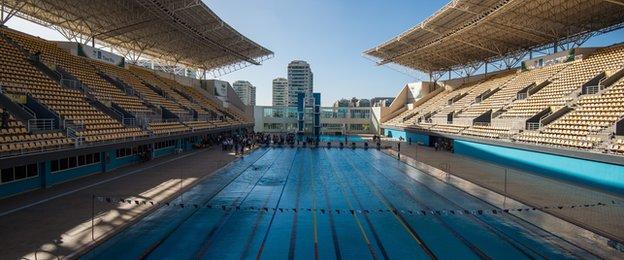 However, ultimately I don't think results in Kazan will make any different to what happens at next year's Olympics.
In 2007 I went to the Worlds, but I didn't make a final and then won two gold medals in Beijing a year later. In fact, none of the 800m medallists at the 2007 World Championships went on to finish on the podium in that event at the Olympics.
It was the similar before London because Katie Ledecky wasn't at the 2011 Worlds and then claimed gold at just 16 years of age at the Olympics. That's part of what makes the Olympic year so special.
Driven Peaty sets the example
Adam Peaty is only 20, but already a European and Commonwealth champion. Oh, and a world-record holder. In terms of how he trains, well, he's simply an animal. His level of focus, drive and professionalism is just incredible and he impresses me so much.
He's not interested in just making finals, he wants to set fast times in all his races and even in the heats doesn't want to be beaten. He's driven by what he won last year to push on and achieve more.
That's such an important attitude to have because at the Commonwealths you can drift through the first couple of races, but you can't at the Worlds and Olympics.
He's also a lovely guy and apart from the medals that he brings, he's really good for the team because he lifts everyone with his attitude and performances.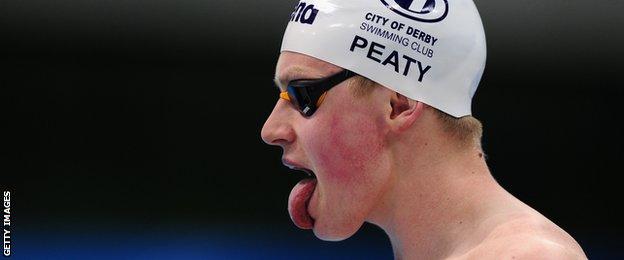 Pressure of expectation
The only problem with winning is it does almost become expected and that brings a lot of pressure. I was often seen by the media as a guaranteed medal for every competition I entered, but I never thought that way.
Adam has had around 18 months at the top of the sport to get used to that pressure. Then there are team-mates like Hannah Miley, Fran Halsall and Liam Tancock who have experienced it and can help him, while the fact there are so many others now that can push on for honours means the nation's hopes are not all on one or two people's shoulders.
Who are the other ones to watch?
Siobhan-Marie O'Connor is someone I've always been impressed with and it's amazing to have been there at the start of her journey at the London Olympics when she was 16 and to see how much she's grown as a swimmer since then.
She has some of the best skills I've ever seen and has really focused on the 1-2% improvements you can make. Four or five years ago she hadn't nailed her tactics - she often went out too hard at the start of a race, or not hard enough. It's nice to see this natural-born racer starting to achieve her potential, which we saw at the Commonwealths where she won six medals.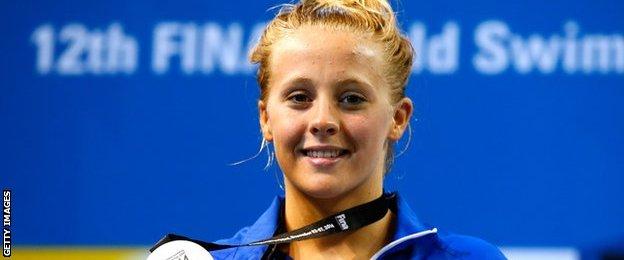 Chris Walker-Hebborn is like O'Connor in that he's really sharpened up his skills. He set a world-leading time in the 100m backstroke earlier this year and has really stepped up from being a member of the team to one of those at the very top.
Jazz Carlin continues to get better and better. She had such a tough time with illness in 2012, meaning she missed the Olympics, but on her day is right up there with the best in the world in the distance freestyle events.
And we should not forget the 'veterans'. Hannah Miley and Fran Halsall have both been there on the podium at world level before and are in great form after difficult Olympics.
It's also looking good for the men's medley relay. You could see that at the Commonwealth Games, where England set a new world record to beat the Australians. It's pretty much the same group for Britain now and it was amazing to see how driven and motivated they were then, and I think we'll see that again in Kazan.