Adam Peaty: World champion fears losing to drug cheats
Last updated on .From the section Swimming
Britain's triple World Championship gold medallist Adam Peaty says he has concerns about being beaten by a drugs cheat in the future.
And while he has faith in the UK's anti-doping efforts, he claims other countries are less strict.
"People are sceptical about nations out there and whether they are clean," said the Derby swimmer.
"All I can do is improve my times and hope I don't come second to someone who dopes."
Peaty broke the 50m breaststroke world record at the World Championships, as well as helping Britain to its best ever total of nine medals at the event.
'Peaty will win Olympic gold'
"Peaty doesn't shy away from competition. He will get up and race. He's got everything. He's got the body for it, but the body and talent aren't enough. You've got to have the mindset."
Mark Foster predicts success for Peaty
But he was beaten to the award of male of swimmer of the meet by Sun Yang, who pulled out of the 1500m freestyle final after winning gold in the 400m and 800m freestyle and silver in the 200m.
Sun, 23, was banned by the Chinese Swimming Association last year for three months after testing positive for a banned stimulant.
"I don't know what's gone on behind the scenes," said Peaty, who says he was tested "seven or eight times" during the championships.
"But it's disappointing to see that he was let off so cautiously - it's like a slap on the wrists.
"It's not a good message - this is not [just] Sun Yang, it's doping as a whole. People out there now will be thinking 'if I can dope and not get caught then why am I doing it the hard way?'"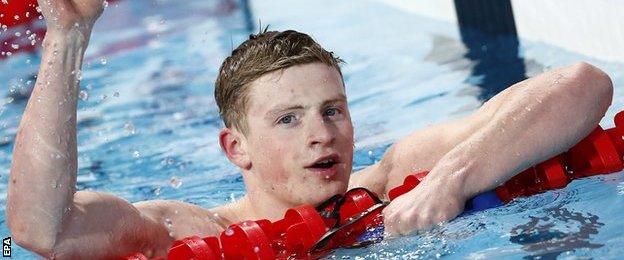 'I was the hunter, now I'm the hunted'
Peaty recognises he will now be the man everyone wants to beat at the 2016 Olympic Games in Rio.
He has vowed to "train even harder" because he realises competitors will "want me to come second".
"There's going to be expectation on me but I enjoy that, I like a challenge and I like to be hunted," Peaty said.
"It's going to be a tough battle next year. I was the hunter last year, but being the hunted now it's completely changed."
Pool closures 'disgusting'
Peaty also expressed concerns over the lack of facilities for young swimmers in the UK. Scores of public swimming pools have been closed in recent years by local authorities under financial pressure.
Meanwhile, British Swimming saw its funding cut after a poor performance at the London 2012 Olympics, and participation in the sport in England dropped by 245,000 people last year.
"It's almost disgusting to see all these pools are going," said Peaty.
"British Swimming has had tough times but that shouldn't affect youngsters. We definitely need more pools, and not just 25m pools, we need Olympic-sized pools."