Rejuvenated Robbie Renwick targets Olympic relay gold
By Jane Lewis
BBC Scotland
Last updated on .From the section Swimming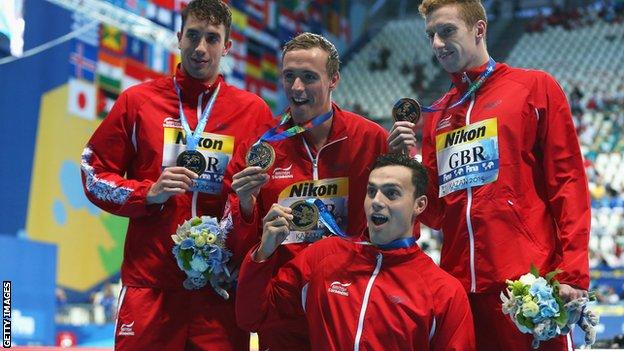 Fresh from winning gold at the World Championships, Robbie Renwick has revealed he considered retiring from swimming a year ago.
The 27-year-old Scot was part of Great Britain's successful 4x200m freestyle relay team in Russia last month.
But he told BBC Scotland: "After the Commonwealth Games I was ready to quit.
"I was down with my performances as I'd thrown everything in to that year and I couldn't understand why I didn't deliver a gold medal."
Renwick had been training with the City of Glasgow swimming group for six years but decided changes had to be made.
''I was getting up at five o'clock after maybe five or six hours' sleep and then training again at 5pm and that was not a good lifestyle at all for a performance athlete," he explained.
''I knew the way I was training in Glasgow there was no point in me carrying on because I wasn't improving, I wasn't happy with my swimming so I had to move to Stirling or quit swimming; that was it.''
Renwick, who has won four Commonwealth medals, moved to Stirling after the Games and now trains alongside Commonwealth champion and World medallist Ross Murdoch and Duncan Scott.
''I knew they were doing great things at the University of Stirling before because Ross Murdoch came through and won the gold medal at the Commonwealth Games, so I knew there was something special going on here.''
University swimming coaches Ben Higson and Steven Tigg were quick to address specific issues and changed Renwick's programme, from training times to lifestyle, so his body could recover from punishing sessions.
Now, he's in the pool at the more respectable time of 7.30am.
Renwick said: "It's really performance driven here, and it's geared up towards the athlete, whereas the year before I was kind of always working against that.
"The set-up is fantastic; the coaches and the sports scientist and support is the best in the world.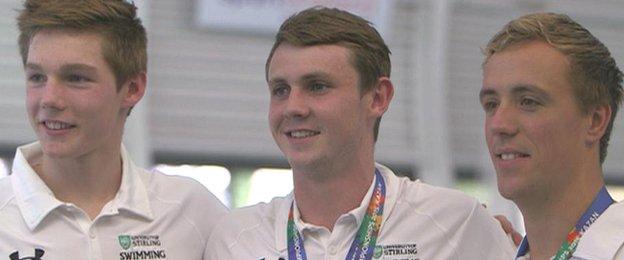 "I've trained all around the world. I've trained with Michael Phelps' coach and Ryan Lochte's coach. I've seen their set-up and the University of Stirling is the best.
"Everyone here is best mates. We work really well with the Scottish Institute of Sport and the university gives us so much support.
"The coaches are very intelligent and they know what each athlete needs.
"It's going away from the mentality of having to swim as hard as you can all the time. It's actually about being smart when you train, and really focusing on each competition and your long-term goal rather than a short-term goal."
Renwick feels he has found the right balance. Sometimes he's working on technique in the pool, at others developing his speed and power with gym or even boxing sessions. For him, it's all about peaking at the Olympics in Rio.
Like Murdoch, Renwick returned home from the World Swimming Championships in Kazan, Russia, with a gold medal from a relay. Renwick was part of the men's 200m freestyle relay, along with James Guy, Dan Wallace and Calum Jarvis, that beat the United States in a stunning final.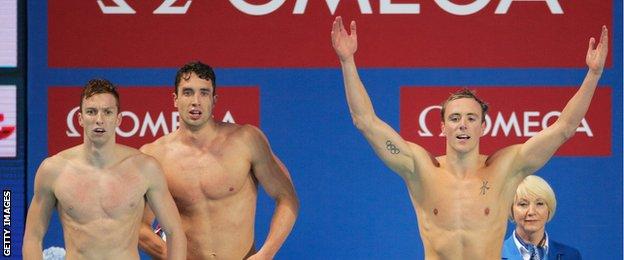 "It was amazing," he said. "So many times I've been in the team and so many times we have got nowhere near the medals and so many times the Americans have beaten us by maybe 10-15m."
Renwick revealed there was a good feeling among the team before the final.
He said: "We kind of knew us four lads could win the gold medal but we'd all have to swim personal bests and it would all have to come together, and it did that night."
Winning gold cemented Renwick's decision to move from Glasgow to Stirling, and long gone are the thoughts of quitting the sport.
"No way, I feel re-energised," he asserted. "I feel the love for the sport is back. The performance athletes are happy, they're all swimming really fast and carrying that on to next year - we're just going to get more and more success."
Renwick will be hoping that success gets him into the team to Rio for next year's Olympic Games. The trials for the GB team take place next April at Tollcross in Glasgow.
If he qualifies for his third Olympic Games, his mission is clear: to repeat his performance from the Worlds. "Two or three of us could have gone faster, so it shows that there's room for improvement, so that's exciting," he said.
"The USA will have Michael Phelps in their team, so we already know it's going to be a close race. We're quietly confident, although we're not getting carried away."