Keri-Anne Payne and Liam Tancock have full funding restored
By Nick Hope
BBC Olympic sports reporter
Last updated on .From the section Swimming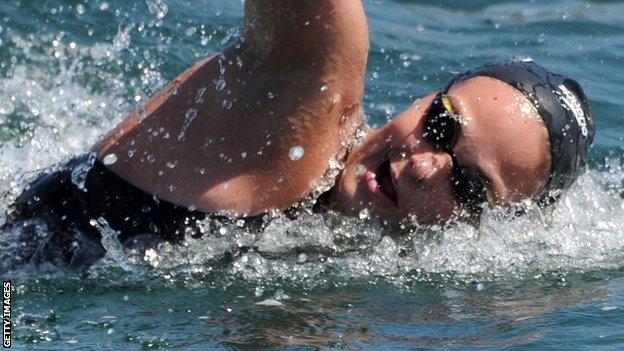 Former world champions Keri-Anne Payne and Liam Tancock have both been restored to full podium funding by British Swimming for the 2016 season.
The pair had their financial support removed in 2013 and 2014 respectively.
But Olympic silver medallist from London 2012 Michael Jamieson has lost his funding.
However, the 27-year-old will still have access to nutrition, coaching, training and other non-financial support from the governing body.
Having moved training base from Bath to Edinburgh, he will also be eligible for support from the University of Edinburgh and Scottish Swimming.
Jamieson has paid the price for failing to qualify for this summer's World Championships in Russia. Welsh record holder Georgia Davies, who also missed out on the meeting, is another to lose support.
England's Lauren Quigley and rising Scottish star Duncan Scott move up to full funding, while fellow Scot Robbie Renwick is rewarded for his role in the world gold medal winning 4x200m relay squad with full support, having also lost out last year
Open water swimmer Payne finished 15th at the World Championships but subsequently won the Rio Olympic test event in August and will be hoping to secure an Olympic place next year at the qualification event in Portugal.
Tancock missed the 2013 Worlds with a shoulder injury but was eighth in the 100m backstroke event in Russia.
Podium funding: Adam Peaty, Aimee Willmott, Andrew Willis, Ben Proud, Calum Jarvis, Chris Walker-Hebborn, Dan Wallace, Duncan Scott, Fran Halsall, Hannah Miley, Jack Burnell, James Guy, Jazz Carlin, Keri-Anne Payne, Lauren Quigley, Liam Tancock, Nick Grainger, Robbie Renwick, Ross Murdoch, Siobhan-Marie O'Connor, Stephen Milne.
Podium potential funding: Abbie Wood, Alice Dearing, Amelia Clynes, Anna Maine, Brittany Horton, Caleb Hughes, Calum Tait, Cameron Kurle, Charlie Attwood, Chloe Finch, Chloe Tutton, Craig Benson, Craig Mclean, Craig Bowman, Dan Jervis, Edward Baxter, Ellena Jones, Emma Cain, Georgia Coates, Georgina Boyle, Harriet Cooper, Holly Hibbott, Imogen Clark, James Wilby, Jay Lelliott, Jessica Fullalove, Joe Hulme, Jordan Hughes, Kathleen Dawson, Katie Matts, Kyle Chisholm, Laura Stephens, Layla Black, Luke Davies, Luke Greenbank, Martyn Walton, Max Litchfield, Miles Munro, Molly Renshaw, Rachael Kelly, Rebecca Sherwin, Rosie Rudin, Sarah Vasey, Tazmin Pugh, Tobias Robinson.