Jersey Long Distance Swimming Club president to step down
Last updated on .From the section Swimming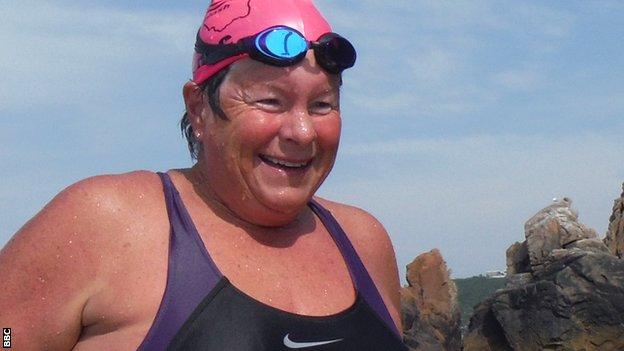 Long-serving president Sally Minty-Gravett is stepping down as the head of Jersey Long Distance Swimming Club after 27 years in the role.
Minty-Gravett was a founder member of the club in the 1974 and has swum the Channel in five different decades.
In 2014, the Olympic torchbearer became the first woman and only the second person ever to swim from Sark to Jersey.
"I'll be handing the baton over," she told BBC Radio Jersey.
"It was muted a couple of years ago that we should have a change in the president, nothing to do with me at all, just to have a healthy change.

"Initially I didn't think that was very nice and it's taken me a while to get my head around the change."
Minty-Gravett, who plans to continue to play a prominent was chosen as one of 19 people to carry the Olympic torch in Jersey in 2012 ahead of the Games in London.
She has trained and supported swimmers of all ages in her position of president, which she has held since 1988.
"It's going to be quite a wrench but I've got to turn it into a positive and it'll give me free time for myself," she added.
A new president is expected to be appointed at the club's annual general meeting on Sunday.