Trio break Scottish records at Short Course Championships
Last updated on .From the section Swimming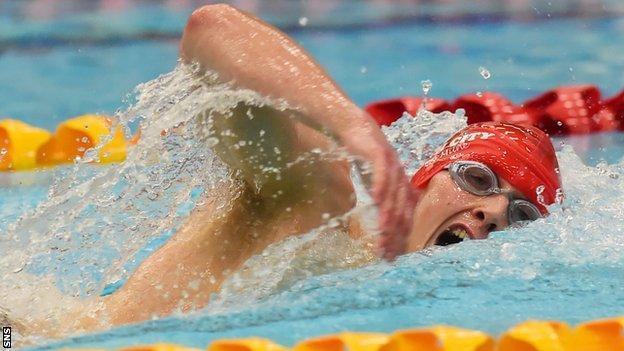 Home favourites Kathryn Johnstone, Stephen Milne and Ross Murdoch claimed wins on the opening day of the Scottish National Short Course Championships.
Johnstone won the final of the 100m women's breaststroke in 1:06.22 with Murdoch winning the men's 50m breaststroke in 26.69.
And Milne won the men's 400m freestyle in 3:40.19 with all three Rio Olympics hopefuls setting new Scottish records.
Craig McNally and Rachel Masson also secured wins in Edinburgh.
McNally won the men's 200m backstroke final and Masson triumphed in the women's 100m freestyle at the Royal Commonwealth Pool.
The championships run until Sunday.
Reflecting on his win, Murdoch commented: "This time last year I was ill and just hadn't put in the background of work needed to compete.
"I'm now feeling good, have put in the work and that's making all the difference."
And Johnstone said: "I knew I had it in me. I equalled the record in September and I was feeling good ahead of the final, so I'm pleased at the result.
"I now need to switch my focus to the long course season and in particular to the trials in April."
Milne beat compatriot Robbie Renwick's record less than a week after a visit to Rio.
"I did have an 11-hour flight on Monday back to Heathrow then another flight back up to Scotland, but I was feeling good and happy to race," he explained. "I wasn't really affected by jet lag or the long journey.
"I was very thankful of the opportunity to go to Rio and it will really spur me on in the early part of 2016 ahead of the trials."