Robbie Renwick concern over Glasgow 2014 legacy
By Jane Lewis
BBC Scotland
Last updated on .From the section Swimming
Robbie Renwick fears that Glasgow's Commonwealth Games legacy will be under threat unless more money is put into sport at the grassroots level.
The top swimmer believes local sporting facilities are needed to inspire and develop the next generation.
"There's been so many budget cuts in the local councils and they're kind of ripping away all the grassroot sport in my opinion," Renwick told BBC Scotland.
"How can you motivate and bring up the next generation of athletes?"
Renwick followed a relay silver medal for Scotland at Glasgow 2014 with gold with Team GB at last year's world championships and this year's Europeans.
As the 27-year-old and European champion team-mate Ross Murdoch visited a school in Stirling, he said: "There's simply not enough local pools anymore, so it's something that we could be doing better.
"Every host city that says there's going to be a legacy, whether that's Olympic Games or Commonwealth Games, they always struggle.
"We always hoped that Glasgow would be different, but it's the reality there's not as much money out there anymore.
"But hopefully we can make our services a lot more efficient, keep the likes of all the local pools going strong because, at the end of the day, that's where I started."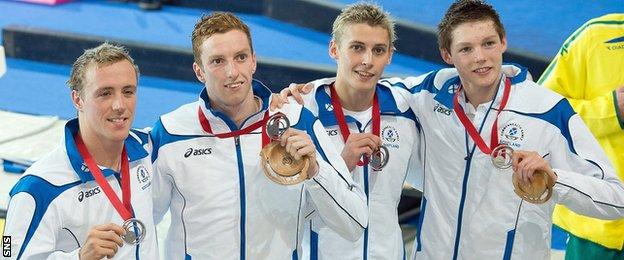 Renwick is concerned about the ability of the country to produce more medal winners like himself, Murdoch and champion cyclist Chris Hoy.
"If I was a young swimmer now and I had no access to local facilities then I wouldn't be a swimmer," he added.
"You can't throw money into the senior athletes.
"In order to encourage the numbers, you need to put the money in to grassroots sport.
"We had such a successful Commonwealth Games, it would be great to have all these facilities open and to have loads and loads of kids coming through totally inspired.
"Because, come five to 10 years down the line, it's going to be them who are asked to represent their country.
"If the numbers are not coming through, it's going to be a huge disappointment."
The Scottish Government spokesman defended its legacy record.
"The legacy programme from the 2014 Commonwealth Games has delivered many benefits for communities across Scotland, from the Legacy 2014 Physical Activity Fund helping organisations promote physical activity in their communities, to the Dalmarnock Legacy Hub, which includes a bursary, GP surgery and community hall," said a spokesman.
"The legacy programme also created thousands of jobs and improved infrastructure and facilities.
"The Scottish Government is supportive of grassroots sport and, over the next five years, we will increase the number of community sports hubs to 200 by 2020, targeting areas of deprivation and a number of regional centres to support both community and elite sport to help people reach their full sporting potential."
Sportscotland, which works very closely in partnership with all 32 of Scotland's local authorities, also stressed the work being done to ensure a legacy.
"Last year, we extended the active schools network programme for a further four years, which represents a £50m investment, which is providing extra circular sports and physical activities right across Scotland," said a spokesman.
"And, earlier this year, we announced a £6m deal to extend community sports hubs to 200 by 2020.
"Active schools and community sport hubs are two terrific examples of the Glasgow games legacy working very well for grassroots and community sports in Scotland."