British Swimming Championships: Guy wins fourth gold as Proud sets another record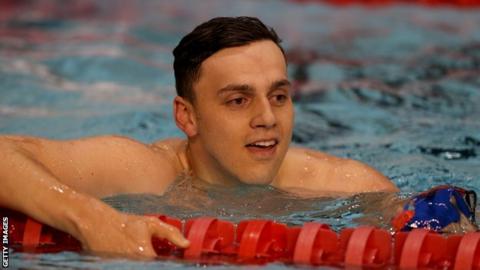 Double Olympic silver medallist James Guy secured his fourth gold medal of the British Swimming Championships with victory in the 200m freestyle on the final day.
Guy edged out Duncan Scott in 1:45.55 secs to add to his 400m freestyle and 100m and 200m butterfly wins.
"I really wanted that one," 21-year-old Guy said. "It's kind of my event."
Sarah Vasey, 20, won the 100m breaststroke in a new personal best time of 1:06.78.
Ben Proud, 22, set a British record of 22.80 seconds in the 50m butterfly having also broken a record in the 50m freestyle on Saturday.
Alys Thomas, 26, took gold in the women's 100m butterfly while Luke Greenbank, 19, triumphed in the 200m backstroke.