Jazz Carlin and Aimee Willmott withdraw from World Swimming Championships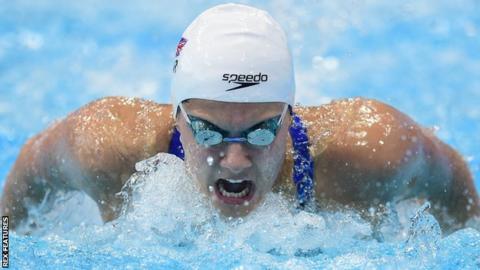 Jazz Carlin and Aimee Willmott have pulled out of Great Britain's team for next month's World Swimming Championships.
Wales' Carlin, 26, who won 400m and 800m freestyle silver medals at the 2016 Rio Olympics, has been affected by illness and injury this year.
England's double Commonwealth silver medallist Willmott, 24, has not fully recovered from an ongoing knee injury.
The event will be held in Budapest, Hungary between 14-30 July.
"Rio was such a high for me but this year I have struggled with niggles and injury and in hindsight my body needed a break to recharge," Carlin said.
"I'm still training steadily in Bath and will be looking to build whereby come September I'll be raring to go for next season, driving towards Tokyo 2020."
British Swimming head coach Bill Furniss said: "Both swimmers are a loss to the team but we respect their decisions which we believe will have a positive impact on their long-term futures.
"Jazz had a long rest after last year's Olympics Games, which she needed to do.
"Since then she has been working hard, despite minor illness and injury, to get herself back into her best competitive shape but feels she isn't going to be able to get there in time for the World Championships."
Furniss said of Wilmottt, who won silver medals in the 200 metres butterfly and 400 metre individual medley at Glasgow 2014: "A decision has been made as she can't get herself into a competitive condition in time for the World Championships.
"Aimee will be taking a longer break this summer in order to fully recover from injury, and then work towards being in the best shape possible at the start of next season.
"I'm disappointed for Jazz and Aimee and it is a loss to the team but we will have lots of athletes fully prepared for the World Championships and we're looking forward to it."