Shane Ryan clinches World University Games gold in Taipei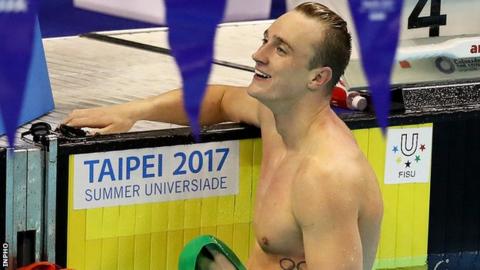 Ireland's Shane Ryan has clinched 50m backstroke gold at the World University Games in Taipei.
US-born Ryan, who switched allegiance to Ireland last year, broke the Irish record for the second time in 24 hours as he clocked 24.72 seconds to triumph.
Ryan, 23, pipped American Justin Ress by 0.01 of a second to make up for the disappointment of missing out on a 100m backstroke medal on Monday.
Gary O'Toole is the only other Irish swimmer to win at the championships.
O'Toole clinched gold at the championships in 1991.
Pennsylvania State University student Ryan qualified for Ireland through his father Thomas who emigrated to the US in the 1980s.
He qualified for the 100m backstroke semi-finals at last year's Olympics.