World Junior Swimming: Conor Ferguson and Mona McSharry win medals in Indianapolis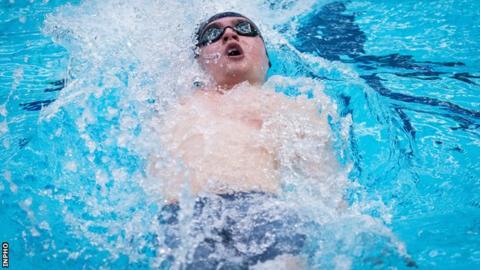 Bangor club swimmer Conor Ferguson and Sligo youngster Mona McSharry have clinched medals at the World Junior Championships in Indianapolis.
Ferguson, 17, took silver in the 100m backstroke as he clocked 54.51 seconds in the final as he finished 0.24 behind Spain's Hugo Gonzalez.
McSharry, who swims for the Marlins club in Ballyshannon, won 50m breaststroke bronze 20 minutes later.
The duo were winning Ireland's first ever world junior medals.
McSharry's time of 30.97 left her 0.19 seconds behind US winner Emily Weiss with Canada's Faith Knelson clocking 30.91.
Earlier this summer, Ferguson won a 50m backstroke silver at the European Junior Championships while McSharry won gold at the same championships.
Ferguson and McSharry were back in action later on Thursday evening in the mixed medley relay final as they helped the Irish quartet finished sixth in a new Irish senior record time of 3:52.38.
The new mark cut 1.71 seconds off the previous Irish record.
"It's great to get a medal at the start of meet and that sets me up well for the 200m (Backstroke) later-on," said Ferguson.
"I felt really honoured to lead out the relay team on the world stage and feel proud that the four of us broke the Irish senior record."
McSharry was also delighted with her performance.
"I'm pleased with a medal at the beginning of the meet particularly when my focus is on the Olympic events (100m, 200m Breaststroke)," said the Sligo woman.
"The relay final was a proud moment too, spectacular for all of us. I love moments like that and hope we have many more between now and Tokyo."
Ferguson, McSharry, Walshe and Powell are all back in action on Friday.
Ferguson competes in the 50m backstroke, McSharry and Niamh Coyne in the 100m breaststroke, Walshe in the 50m Butterfly and Powell in the 50m freestyle.