British Swimming: Former coach 'rejects bullying allegations'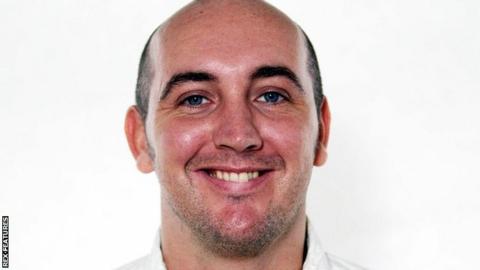 Rob Greenwood, the coach accused of creating a "climate of fear" within the British Para-swimming setup, has "wholly rejected allegations of bullying and intimidation".
Among the findings of a confidential final report obtained by BBC Sport, investigators found "there was a lack of nurturing, empathy and appreciation for athletes' general well-being".
The report said Greenwood also inappropriately disclosed an athlete's medical information and banned swimmers from leaving hotels "as punishment".
British Swimming apologised to athletes and their families for "unacceptable behaviours".
Greenwood, who was named 2016 High Performance Coach of the Year by UK Coaching last December, left his job before the investigation began.
He said: "I wish to place on record my severe disappointment with the findings of the report and the methodology.
"I wish to remind you of my record as a swimming coach, which I take considerable pride in, and ask you to take note that the timing of this investigation followed closely upon my decision to resign from British Swimming.
"I do not propose at this stage to address each finding in turn, but wholly reject the allegations of bullying, intimidation and all other criticisms made of me.
"I would wish to add that no swimmer or member of staff ever raised any concerns with me about an alleged 'climate of fear'. I do not consider I was ever knowingly offensive or insulting.
"I accept that I push swimmers, whether able-bodied or disabled, to their limits which I believe is what is agreed by a whole team, including the athletes. The techniques and training have achieved great results consequently.
"I was nearly always with other members of staff whenever I was coaching and I anticipate that there will be support for me coming from some of them and athletes in due course."
The British Swimming investigation
The confidential final report obtained by BBC Sport was heavily redacted to protect individuals' identities, but the BBC can reveal one member of staff - understood to be Greenwood - was said to have:
"acted in an intimidating manner towards athletes"
"used derogatory terms to describe athletes owing to their disability"
"inappropriately disclosed medical information of a Para-swimmer"
"asked an athlete to perform a task they were unable to do due to their disability"
It added that "when recounting their experiences... in the squad under the tutelage" of an unnamed member of staff - understood to be Greenwood - "a number of athletes became visibly distressed. Their recollection was vivid and the impact on them palpable".
According to the report, "there is evidence to show that [Greenwood] used inappropriate language to describe the physical disabilities of athletes, which at best is unprofessional. Treating individuals with dignity is the very least skill/quality that you would expect to find in an elite level Paralympic coach".
The national governing body's chairman Maurice Watkins said: "In the pursuit of excellence, we recognise there have been failings in the culture and communication within British Para-swimming."
'Full support and backing'
Greenwood has been given the "full support and backing" of the British Swimming Coaches Association (BSCA).
"The BSCA has been acutely aware of recent press and media speculation regarding Greenwood," it said in a statement.
"We have been offering support and representation to him through this long affair and continue to do so. So that there is no doubt, we wish it to be known that the BSCA as a body, continues to give Rob Greenwood its full support and backing, whilst there is no 'proven' evidence to the contrary."