Ulster Long Course Championships: Quartet miss out on Commonwealth times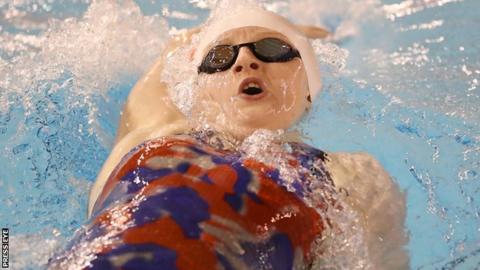 Danielle Hill was among four swimmers unable to make the nomination time for the Commonwealth Games at the Ulster Long Course Championships in Bangor.
Rachel Bethel, David Thompson and Curtis Coulter also missed out although the quartet will have other chances on Sunday.
Hill, 18, took the women's 100m backstroke title in a tightly fought race with Rebecca Reid.
The Larne teenage won in 1:04.82, well outside of the 1:01.22 required.
Hill would have had to swim a new Irish senior record in order to gain the nomination standard for Gold Coast.
She will now focus on the 50m backstroke on Sunday, an event in which she holds the Irish record.
Double silver
Bethel, 17, from Lisburn won two silver medals at the Commonwealth Youth Games earlier this year and swam a personal best of 4:16.12 to win the 400m freestyle.
Again, due to the tough standard needed, she was still just over three seconds outside the nomination time.
Jordan Sloan won a highly competitive men's 100m freestyle, beating Thompson and Jack McMillan.
After achieving his nomination time on Friday in the 200m freestyle, the Bangor swimmer won in 49.57 seconds and it leaves Thompson, McMillan and Coulter with the 50m freestyle on Sunday to battle it out for a nomination mark.
Other titles on Saturday were won by Daniel Wiffen (Lisburn) in the 1500m freestyle, Rebecca Reid (Ards) in the women's 200m individual medley, Paddy Johnston (Ards) in the men's 50m backstroke and his team-mate Amelia Kane in the women's 200m butterfly.
Larne won a further three events with Ben Woodside taking the honours in the men's 200m breaststroke, Conor Brines in the 100m butterfly and Hill, who took victory in the 50m freestyle ahead of Paralympic champion Bethany Firth, who is making her return to competition after an ankle injury.
Coleraine's Molly Curry took her second title in two days, winning the 50m breaststroke.
Sloan, Conor Ferguson, Jamie Graham and Calum Bain are the four swimmers who have achieved the nomination standard along with para-swimmer Barry McClements, but they now must wait until selection takes place by the Northern Ireland Commonwealth Games Council at the start of January.