Adam Peaty wins 100m breaststroke gold at European Short Course Championships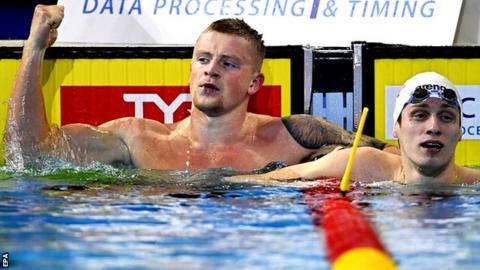 Britain's Olympic champion Adam Peaty won 100m breaststroke gold at the European Short Course Championships.
The 22-year-old, who took bronze in the 50m event earlier in the week, set a new European record of 55.94 seconds in the 100m final in Copenhagen.
Peaty's first major title in a short-course competition came on the night team-mate Ben Proud added 50m butterfly bronze to his medal haul.
Short-course competitions take place in a 25m pool rather than 50m pool.
"I knew it was going to be a tussle and it's great to grow that experience as it's only going to help me get quicker," said Peaty, who gave away his gold medal to a young girl in the crowd.
World champion Proud's success in the butterfly event follows his 50m freestyle silver medal on Friday.
"Going into the final with a good time I thought I could move it on, but with a 50 it sometimes doesn't go to plan, but my mindset was good and I've learnt more about approaching finals," he said.
"I think there's still more there and I think I can go quite a bit faster."