European Championships 2018: Hannah Miley hopes home support can spur her on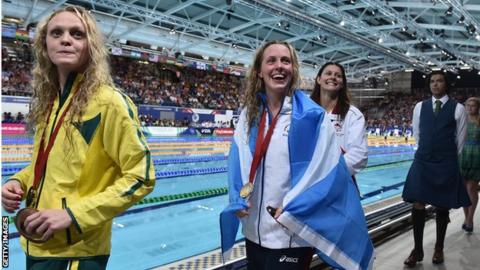 Hannah Miley says home support can drive her to success at the European Championships in Glasgow next month.
The 28-year-old will race in the 400m individual medley at Tollcross, a venue she has happy memories of having won gold there in the same event at the 2014 Commonwealth Games.
Miley says it was the deafening noise from the home support that night which spurred her on.
"That moment will stay with me forever," Miley told BBC Scotland.
"At Tollcross, everything is quite enclosed, and just the noise that the public brought, it was immense.
"You could feel it in the water going down that last 50 metres when everything was burning, everything was hurting, I could feel the crowd, it was unreal."
To win gold next month, Miley will have to get the better of English counterpart Aimee Willmott, who denied Miley a third Commonwealth gold medal in Australia in April.
Also in the field will be three-time Olympic champion Katinka Hosszu of Hungary, and Italian Ilaria Cusinato, who has raced quicker than Miley this year.
"I think you need that [the rivalry]," said the Scot, who won European golds in Istanbul in 2009 and Chartres in 2012, on Sportsound.
"If the sport was straightforward and you could always guarantee you were going to get a medal then it would be quite boring to watch.
"To have that rivalry and someone to push you, it keeps you on your toes and keeps you motivated. There's nothing worse than an athlete becoming complacent."