Glasgow 2014 legacy 'driven swimming forward' - Ross Murdoch
By Amy MacBeath
BBC Sport Scotland
Last updated on .From the section Swimming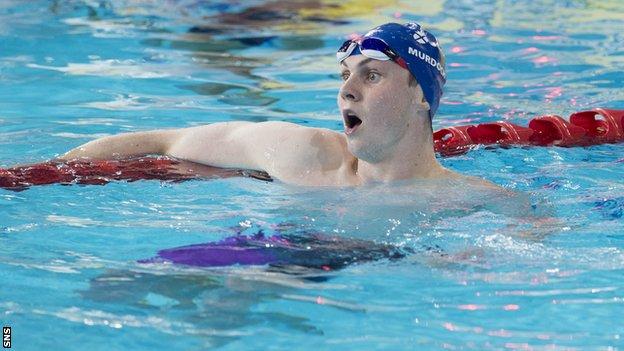 One of the poster boys for Scottish swimming says the lasting impact of their Commonwealth Games success could be used as a model for other sports.
Glasgow 2014 gold medallist Ross Murdoch believes too many excuses are made for the failure of national teams.
"I always hear people talking about Scotland, a football nation, but we can never make it as there's not enough people. It's a load of rubbish," he told BBC Scotland.
"You just need to get people in at the bottom with enough motivation and you make such a big change in such a little amount of time.
"The depth in Scottish swimming has grown massively and is still growing now."
Murdoch, 24, was speaking before the inaugural multi-sport European Championships being held in Glasgow and Berlin.
And the breaststroke specialist, originally from Balloch, hopes another major event at home can help build on recent progress.
"From London [2012 Olympics] there was a burst through from my generation of UK swimmers - Adam Peaty, James Guy, Siobhan Marie O'Connor - and then after 2014 there's been a real big burst again.
He referenced Duncan Scott - "an absolute superstar these days" - as the latest product of their success following the 21-year-old Scot's six-medal haul from this year's Commonwealth Games.
"The legacy that recent home championships have left behind has really driven forward the depth we've got in Scottish and British swimming," said Murdoch.
"It's really impressive to see and the future looks good for when the baton is handed over."
Murdoch is one of 10 Scots swimmers in a 43-strong Great Britain team and, while the focus is on medals, thoughts are very much on Olympic places.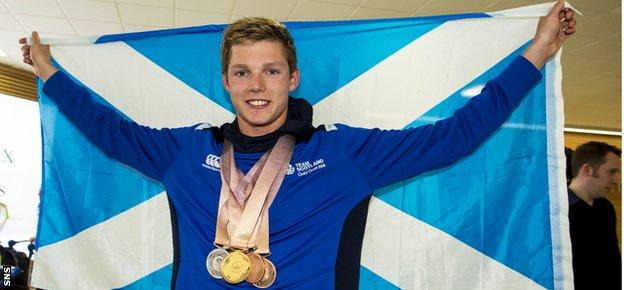 "This is the halfway point in the full Olympic cycle, this is the one where we're starting to take mistakes made last year, refining them and using everything we learn to drive on forward to 2020," said Murdoch.
"There's a big gap between youth and experience in this team but this squad is pretty much where the team for Tokyo will be picked from, bar a few outsiders."
Returning to the Tollcross pool in Glasgow's east end is particularly special for Murdoch, whose wide-eyed disbelief and joy after beating favourite Michael Jamieson to win 200m breaststroke gold was an abiding memory from 2014.
"Everything just fell into place when we planned it to, there was always a bit of doubt, but the stars just seemed to align that night in July 2014 and I can't wait to get back there," he said.