Jazz Carlin column: Pneumonia, throwing elbows and 10k training sets
Last updated on .From the section Swimming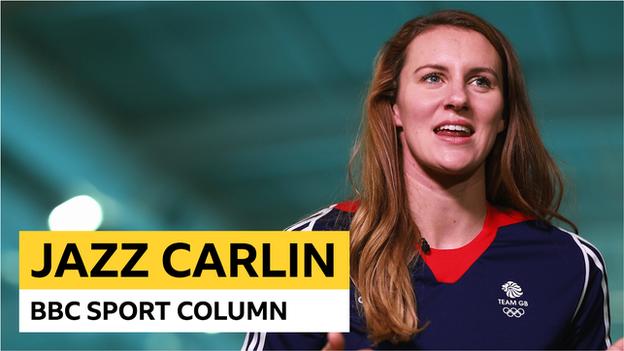 Before her biggest open water race so far at the European Championships on 9 August, two-time Olympic swimming silver medallist Jazz Carlin reveals her battle with pneumonia, how she is finding the switch from the pool and why she may have to discover a new side to her personality come race day.
Throwing elbows, grabbing ankles
I'm loving the open water, especially with the best summer we've had. Just being able to swim outside with the sun on your back - I've absolutely loved it.
A lot of people think I'm a bit crazy but I've always had that thought in my mind that I'd love to try open water. If I'd finished swimming without giving it a go I think I probably would've regretted it. So I'm really glad I've taken the plunge - even though it is a bit rough.
It's very different to being in the pool. You've got arms going everywhere, people grabbing your arms and your legs and it can be quite brutal. I think I did struggle with that at the start. I was looking around thinking, "Who did that to me?!" But you can't do that - it's part of the sport - and that's something I've got to accept.
I'd like to think I'm quite a nice person and maybe wouldn't do it back but everyone says: "A few races in, you'll be giving the elbows back." I guess you do have to show a different side to you which I hadn't really seen in me before. I hope I can hold my own in the water rather then throwing the elbows around.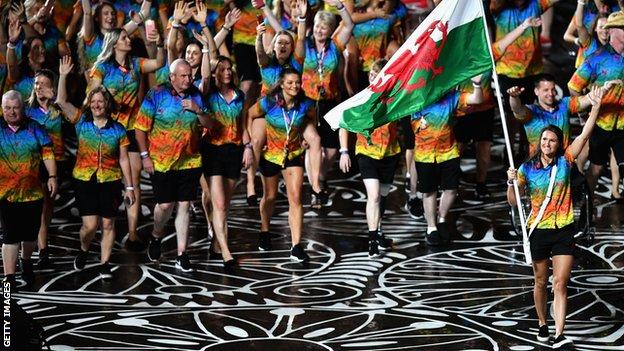 Recovering from pneumonia
It's not been the best preparation for me. When I got back from Australia I ended up in hospital. I found out I had pneumonia. I thought I had the flu but they sent me to A&E because my heart rate was 130bpm just sitting down. I'm normally around 40bpm or just under.
It was a bit of a shock having to be in hospital for a few days, sitting down with the doctor and them saying it could take three months to feel normal. When you're an athlete, it's a bit of a kick to the teeth. But I've got amazing staff around here and people doing everything they can to make sure I'm in the best shape.
Since then, I've had a couple of weeks' recovery and I've gone from strength to strength. So I'm starting to feel back to my best again. I'm glad I'm here saying I'm going to the Europeans. I'm hoping to be competitive and I'm going to give it absolutely everything.
I did my first World Cup at the end of last year in China. I finished 12th and I was so disappointed. You want to be on the podium, you want to be competitive. I didn't feel good enough.
But my open water coach said to me: "That's your first World Cup and you've finished 12th. So you need to be grateful." But in the back of my mind, I always want the best of myself and perform at my best.
It's hard to take - being an amateur at the sport now. It's like I've gone into a completely new sport where I don't really know what I'm doing and I guess it does take time. It's a lot different from what I thought it was but that does make it more exciting.
It's a very long race - two hours - and when I finish I'm absolutely wiped out. I'm working a lot of my aerobic system, going for longer. When you get into the lake or pool and you've got a 9km or 10km session, at first I was like, "Argh!" But now I love it.
Hopefully after the Europeans, I'll still be loving it.
Biggest open water race beckons
To be a part of this multi-sport Games is so special. A lot of the time we're just away with swimming so I'm looking forward to seeing a lot of other sports as well.
I've never been to Loch Lomond before but I hear amazing things. It'll feel like a home games being in Scotland and hopefully we can get some nice support up there.
Europe is a really strong field. You've got the Olympic champion Sharon van Rouwendaal and double world champion Aurelie Muller in this field. But it's a challenge for me and I'm going to make sure I'm in the best shape and can be competitive.