BBC Sport - Jazz Carlin ready for 'rough and brutal' open water swim at Euro Champs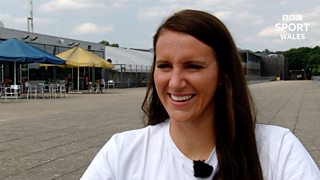 Carlin ready for 'rough and brutal' open water
Jazz Carlin tells BBC Sport Wales she has had to get used to the "rough and brutal" nature of open water swimming ahead of the European Championships.
The two-time Olympic silver medallist and former Commonwealth champion in the pool decided to try open water swimming last summer.
Carlin, 27, has raced on the World Cup circuit but Thursday's 10km swim in Loch Lomond will be her biggest test in the discipline yet.