Paul Drinkhall moves to Italy to improve 2012 prospects
By Jessica Creighton
BBC Sport
Last updated on .From the section Table tennis
Great Britain's top table tennis player is moving abroad in September to improve his chances at London 2012.
Paul Drinkhall, 21, hopes regular training with top players at Italian club Sterilgarda will enhance his competitive form ahead of the Games and help him climb up the world rankings.
He told BBC Sport: "I haven't got that level of consistency to reach the top.
"So that's what I'll be working on out in Italy. I'll be getting better training out there on a daily basis."
Drinkhall, the English number one since 2006, added: "It's a good set-up and it will be good for my training towards London 2012."
"Also it's a new place to freshen things up a bit. I've been in Sheffield now for three years and you fall into the everyday stuff; you need to refresh it sometimes. Hopefully that's what Italy will do for me."
Drinkhall, national men's singles champion, is competing at the World Championships in the Netherlands, which run from 8-15 May and is one of the milestones of the 2011 table tennis calendar.
But without a senior medal to his name, and having to overcome an often tricky qualifying round before entering the main draw, Drinkhall is aware of the challenge he faces in Rotterdam.
"To say I'm going to go there and win a medal is quite hard for me to say because I've never done anything in the past. I've never won a Pro Tour at a senior level," the Yorkshireman said.
"In the future I would like to medal in a tournament like that but at the moment I've proved I can play against the players that could be winning the medals - the top Koreans, top Chinese. I've proved that I can play against them and I have beaten a couple of them."
Drinkhall reached a career-high world ranking of 81 in the latter part of 2010. But following a run of poor tournament performances, he now sits 126th and is focused on changing that.
"I want to jump back into the top 100 in the rankings; that's where I belong. I'm hoping to beat some of the top guys to prove to myself and the other players that I can do that.
"That'll improve my ranking and make it easier to qualify for London 2012 automatically."
"At the moment I can play good sometimes but also I can go on the table and lose to players that I shouldn't be. I am quite young in the sport but I expect myself to stop doing that over the next seven or eight months."
Britain has never won an Olympic table tennis medal, and not since Johnny Leach in 1951 has there been a British singles world champion.
Leading the quest for gold at these championships will be China; of the world's top-10 male players, six are Chinese.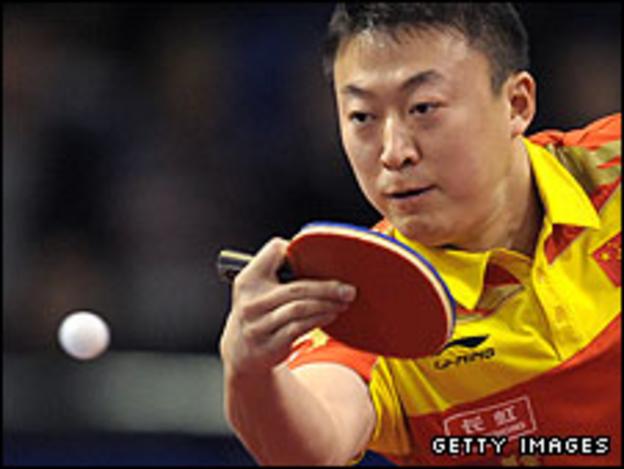 Drinkhall's self-funded trip to China in January to train with the Chinese national team highlighted to him the country's strength in depth.
He said: "You could bet your house on them being in the final or winning. Every tournament they go to they're the best. They go there and they perform at that level every time.
"The Europeans are a lot more relaxed, they like to have a bit more fun. The Chinese are great people to learn from and I think they want other people to try their ways and get closer to them - it's almost boring for them at the moment."
Drinkhall is part of an eight-player British squad competing at the tournament. Whilst the British team is unlikely to reach the later stages of the championships, they have proved in previous years they are able to exceed expectations.
"We finished 10th in the Europeans last year, which from last year was a massive jump. Last year we finished 17th so it was quite an achievement," he said.
"That just shows that as a team we can get results and we have improved. Everybody's training hard.
"Because we have a Chinese coach [former player Liu Jia-Yi] and have been going out to China to train, I think we can be up there fighting to play against the top players for London 2012."