Great Britain are on the right track, says Kelly Sibley
By Jessica Creighton
Olympic sports reporter
Last updated on .From the section Table tennis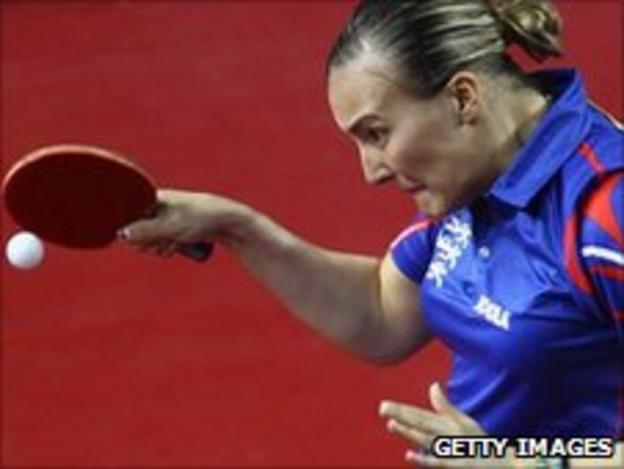 Britain's top women's table tennis player Kelly Sibley has said the squad is on the right track despite their early World Championships exit.
The 22-year-old added that Great Britain will have learned a lot from the experience in Rotterdam.
"We're heading in the right direction. Even though no one went past the first round, we've all achieved something," the national singles champion stated.
"We'll take it back to the practice hall and work hard on it."
The Warwickshire-born player lost her first-round match 4-0 to Korea's Song Ma-eum, ranked 72nd in the world, after she was automatically entered into the main draw.
"With my ranking, I wasn't meant to beat her so I had nothing to lose," added Sibley, ranked 153rd. "I played some really nice points and learned a lot about my game.
"I am disappointed to not have taken a set but after reflecting on my performance I've learned a lot from it and can go back to the drawing board.
"It's quite tough coming in straight to the first round and being up against a really strong opponent. It's like being thrown in at the deep end.
"But it's good because you can try and test yourself. It's a good opportunity to play against the top players and see where you are."
Sibley was one of three British women competing in the tournament in the Netherlands.
Team-mate Joanna Parker, also automatically entered into the main competition, fell in the opening round after a closely fought battle with Japan's Yuka Ishigaki.
Although 132 places lower in the rankings, Parker was unfortunate not to snatch victory. She lost a tighly contested final game 15-13 as she went down by four sets to three.
"She [Parker] played really, really well. It was awful to see her lose but at the same time she played amazing," Sibley reflected.
"She didn't feel it at the time because she was heartbroken but when she can reflect on it and watch the footage back, she will see she was playing some high quality balls and causing problems for the Japanese."
With the tournament running until Sunday, Sibley will be taking note of how the world's top players perform.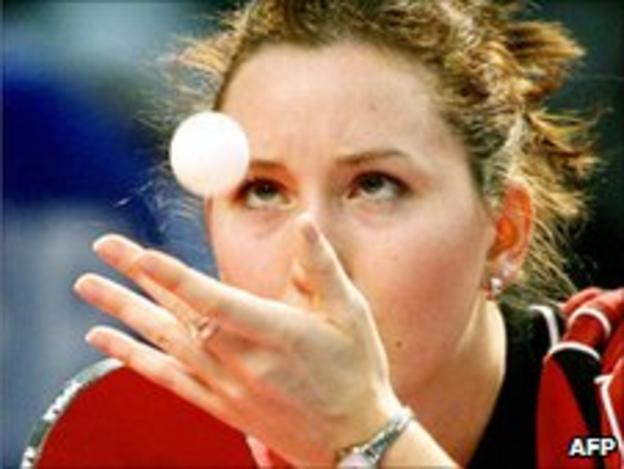 "The Chinese number one in the world Li Xiaoxia and former number one in the world Guo Yan [currently second], I like to watch them play," Sibley continued.
"If I could choose a style to base my game around it would be those two players. I can learn from them and maybe try it when I go back to the practice hall."
Indeed, the British camp already have close links to the Chinese national team after training with them earlier in the year. Great Britain will return in August to prepare for the next big event in the table tennis calendar - the European Championsips in October.
"The European Championships will be a milestone in the season. It's always a goal in the team event to try and get promotion to the top division, we were really close last year," Sibley told BBC Sport.
British player Hannah Hicks was unable to progress past the qualification stages of the World Championships as she lost 4-2 to Slovenia's Manka Fajmut.
Meanwhile, in the men's singles, Darius Knight, ranked 238th, lost in the preliminary rounds to Mounaim Tirsel of Morocco 4-3, while Daniel Reed was beaten 4-2 by Spain's Alfredo Carneros.
GB's top men's player Paul Drinkhall, automatically through to the main draw, met his match as he was beaten 4-0 by eighth seed Vladimir Samsonov in the first round.
Liam Pitchford and Andrew Baggaley, who had battled through the preliminary stages to the main competition, were unable to continue that momentum losing to Niwa Koki of Japan and Spaniard Carlos Machado respectively.
Sibley and Parker faced third seeds Ali Fukuhara and Kasumi Ishikawa in the women's doubles and were defeated in four straight games.
Neither of the men's doubles pairings of Reed and Knight and Drinkhall and Pitchford made it through the preliminary rounds.
In the mixed doubles, Parker and Drinkhall suceeded in reaching the main event but were beaten in the first round by Huajun Jiang and Yuk Cheung of Hong Kong.
So too was Sibley and Knight who lost to Yi-Hua Huang and Sheng-Sheng Huang of Chinese Taipei/Taiwan).
Watch live streaming of the ITTF World Championships, which run until 15 May, at www.ittf.com