London 2012: Liam Pitchford hopes to put GB table tennis on the map
Last updated on .From the section Table tennis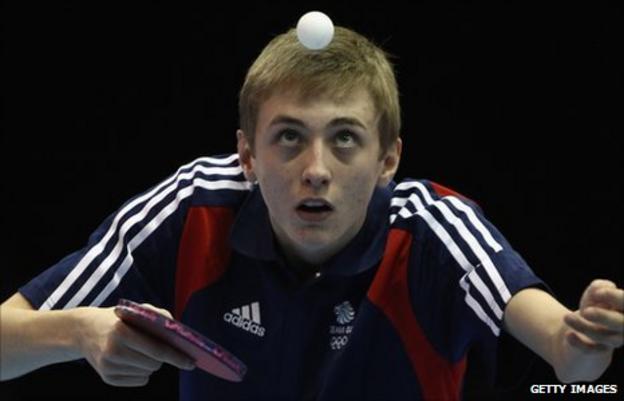 For Liam Pitchford, 2011 was something of a breakthrough year.
In October, the 18-year-old from Derbyshire scored at the European Championships.
A few weeks later, at the World Junior Championships, he made another notable entry on his CV with victory against top Chinese player Wu Jiaji.
The afterglow of those results was lengthened by the news that he had risen to number one in the English rankings. Not bad for a teenager whose peak should still be a distant dot on the horizon.
"Beating Samsonov was the best win of my life because he's been world number one, European champion and won the World Cup," says Pitchford. "It was the first game of the European Championships. I thought, 'Now I've beaten him, I can beat anyone.'
"In total I beat four players inside the top 100. I didn't expect to get to number one so soon, but the main thing is to improve my world ranking."
Pitchford's current world standing of 174 illustrates how far British table tennis has to travel before anyone can begin talking about Olympic medals, but he has taken a significant step towards producing consistently world-class performances by moving to Germany to play in Europe's strongest domestic league.
"I'm practising with top players every day," he says. "We're playing in front of big crowds and I think it's working because I've started to play well."
While many youngsters his age are taking only the first tentative steps towards independence, Pitchford has made a giant leap, but he is unfazed by such a big move.
"To be honest, it's something I'd always wanted to do so I haven't been homesick," he says.
"I live with another of the players. It's only a small village and everyone speaks English so it hasn't been a problem settling in, but I'm trying to learn German as well.
"It's a bit more relaxed over there and there's not the pressure of everyone thinking about the Olympics all the time. That helps you take your mind off it."
Pitchford hopes the next major destination on his sporting journey will be London 2012, but his ambition is not purely a personal one.
"It will be the best feeling to play an Olympic Games in front of a home crowd. Hopefully it will put table tennis back on the map and attract new fans by showing just how good the sport is," he says.
"A lot of people say it's not a proper sport, but you need to be really fit to play.
"If you see the Chinese, physically it's phenomenal how fit they are. It changes people's view when they see the sport played live."
China have dominated table tennis for almost half a century and will begin as favourites for the gold medals next summer.
But with countries only able to enter two players in each of the singles competitions, a clean sweep of the medals will not be possible. That presents an opportunity for others, although home success is highly unlikely.
Nevertheless, Pitchford has already impressed in 2012 with narrow losses to former world champion Werner Schlager and world number four Timo Boll, and his progress over the last year has given the Briton belief that, if selected, he can make an impact in London.
"I've beaten players who've been capable of winning the Olympics before," he says.
"I'd just like to show people how we can play. If you get one good win then it's a bonus and who knows where you can go from there."