GB table tennis battle hots up at English Championships
By Jessica Creighton
Olympic sports reporter
Last updated on .From the section Table tennis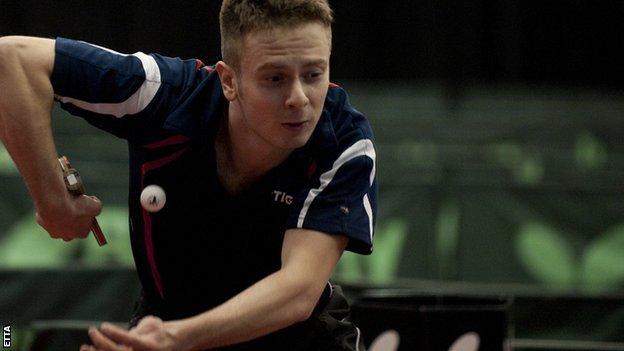 London cast a shadow over Sheffield when Britain's table tennis hopefuls went head-to-head at the English National Championships last week.
With a home Olympic Games looming and competition fierce for places on Team GB, the chance to win a national title was more significant than ever.
In a battle of youth against experience, Andrew Baggaley, Britain's highest-ranked player in the world rankings, fell to 18-year-old Liam Pitchford in the knockout rounds.
Baggaley told BBC Sport: "I'm not massively disappointed. I'll get over it because my main target is the Olympic European qualification tournament [in April]."
When Baggaley made the claim last year that he wanted to qualify for the 2012 Olympics without using a host nation place, few thought it was possible.
Britain is not one of the powerhouse nations of table tennis, despite the Mayor of London's best efforts, but Baggaley - who has played professionally since he was 13 - has added fuel to his claim by reaching a career-high of 119 in the world this year, the highest of any current GB player.
He's also had his most successful year on the international circuit, reaching the quarter-finals of the world-class Hungarian Open in January.
"I've been having a really good season," he said. "I had a great event in Hungary where I got to the latter stages, so that's helped my chances, and I have a brilliant opportunity to qualify [for the Games]."
For Derbyshire teenager Pitchford, the win was just one of a handful of high-profile victories against seemingly superior opposition in recent months, including world number nine Vladimir Samsonov.
"I've been training out in Germany a lot, which is better practice than in England. I'm playing with the world's top players day in, day out and it helps my confidence and my game."
Pitchford and 29-year-old Baggaley are two of six men battling for the three available places to represent Britain at London 2012. Along with Paul Drinkhall, who won the men's singles title in Sheffield, they are most likely to be selected by British Table Tennis as they sit highest in the world rankings.
That means the sport's biggest personality, Londoner Darius Knight, risks missing out on a home Games unless he can prove to selectors that he will be competitive.
"If they look at what I have to offer in terms of being a sportsman and ambassador for the sport, I think I should definitely [be selected]," he told BBC Sport.
"Unfortunately my ranking hasn't improved as much as I would have hoped, but I'm on the right track so I think I've got a good chance."
Knight defied his ranking along with playing partner Danny Reed to secure the men's doubles title ahead of favourites Drinkhall and Pitchford.
"I'm an outsider to be selected," Reed told BBC Sport. "A win in the doubles puts a good argument forward but a win in the singles is the big one. I've still got a bit of time but I need to really perform."
Joanna Parker and Kelly Sibley continued their dominance of the women's game by winning their fourth English doubles title in five years.
Parker, who lost out in the women's singles to Sibley, told BBC Sport: "I'm in a good position, at the moment I'm number one in Britain in the world rankings.
"But it's not all about being selected, it's about competing once you get to the Olympics."