Andrew Baggaley: Table tennis in the UK needs Euro-style leagues
By Chris Osborne
BBC East Sport
Last updated on .From the section Table tennis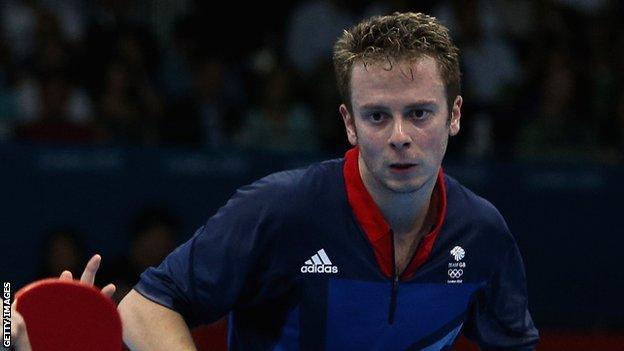 Great Britain's Andrew Baggaley has said the UK needs to replicate table tennis leagues in Europe if it wants to compete with the world's best nations.
Germany and France both run professional leagues which attract international talent.
"For us to become a better sport we need a good club system," Baggaley, who plays in the German professional league, told BBC East Sport.
"If you look at European countries - Germany and France for example - they have good professional leagues."
Britain's men's team exited in the first round at the London 2012 Olympics, while Germany and Austria - who both run fully professional leagues - reached the quarter-finals, with the Germans going on to be the only non-Asian country to reach the semi-finals.
Germany, France, Belgium and Austria all operate professional leagues that receive TV coverage and sponsorship deals, with the top teams going on to meet in a European competition.
The English Table Tennis Association received £1.2m towards creating a British team for London 2012 but will have no UK Sport funding in the build up to 2016.
Although the organisation's total funding has increased from £10.4m to £11m following Sport England's budget announcement for 2013-2017.
Milton Keynes-based Baggaley, the British number two, plays in the German Bundesliga between September and May and wants to see Britain's domestic league improved.
"I think there is an audience for a table tennis league - if it were advertised," said the 29-year-old.
"It helps if you have decent crowds. It's about bringing foreign players here. You need the money to attract foreign players of course. All the players in the world would love to come to England."
Baggaley has funded his entire career, which includes winning five Commonwealth Games medals, through personal means, but is nonetheless unhappy with UK Sport's decision to cut table tennis's funding.
"It's disappointing for the sport. From my point of view it doesn't affect me directly as I've never had financial support from UK Sport," he said.
"I've got very good family support and sponsors. But for the new generation it's not great.
"People don't realise how hard it is to win medals in table tennis at the Olympic Games. The Chinese have such good resources and Germany are one of the best teams in the world.
"The resources there are much better in terms of club systems and training opportunities."