New balls for table tennis bizarre - Andrew Baggaley
Last updated on .From the section Table tennis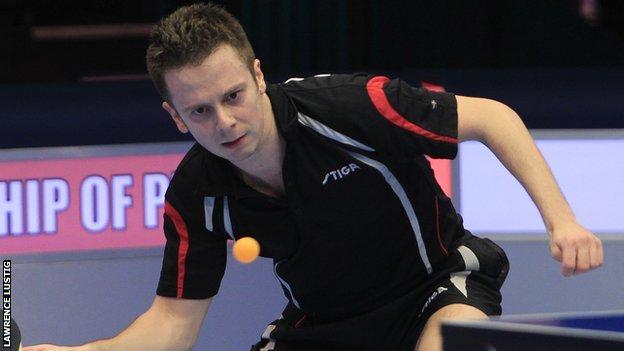 British Olympian Andrew Baggaley has said plans to change table tennis balls are "bizarre".
The International Table Tennis federation will introduce "poly balls" from July 2014.
"It's really bizarre. I don't know any other sport that's had as many changes," Baggaley told BBC East Sport.
"I don't really understand the reasons for the change, because I believe the pecking order in world table tennis will remain the same."
The current balls are made of celluloid, but will be replaced by a plastic material.
During tests the ITTF discovered players generally found the new ball to be slower with a higher bounce, which could potentially increase rally length.
Table tennis is accustomed to change, with adjustments made to the scoring system, size of the ball, service action and type of glue used on the rubber of bats in the past 10 years.
"Once the ball changes, the equipment tends to change with it." added Milton Keynes-based Baggaley, 30, who was part of Team GB at London 2012 and is a five-time Commonwealth Games medal winner.
"I don't think it will change anything dramatically, like affecting the Chinese dominance in the sport.
"Players who have played with it tell me it's less spin and it's a little slower with a truer bounce. They also say the ball sounds like it's broken."
Next year's Commonwealth Games in Glasgow start the same month as the proposed ball change will take place.
But Games officials will be left to decide whether they stick with the old style or switch to the new.
"I hope they don't change the ball before the Commonwealths, it does concern me slightly, because that will affect all the players and the preparations," said Baggaley.