Ping pong: Andrew Baggaley practised for a month to win $20k
By Chris Osborne
BBC Sport
Last updated on .From the section Table tennis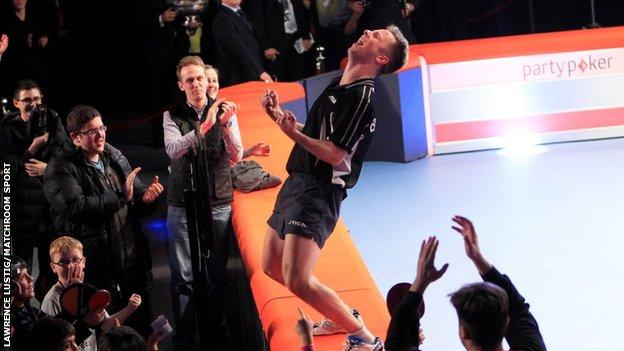 England's most successful Commonwealth Games table tennis player Andrew Baggaley has said it was "unbelievable" to win the ping pong world title.
Baggaley, 31, only plays ping pong - a style of table tennis different to the Olympic format - once a year, but took the $20,000 (£13,200) top prize.
"I practiced for a month, but it's not really my sport," he told BBC Sport.
"So it feels like I've won a major. It's very unique. I can't believe it. I knew I was one of the contenders."
In the World Championship of Ping Pong, a televised event backed by snooker and darts supremo Barry Hearn, players use bats that are covered in sandpaper, rather than rubber.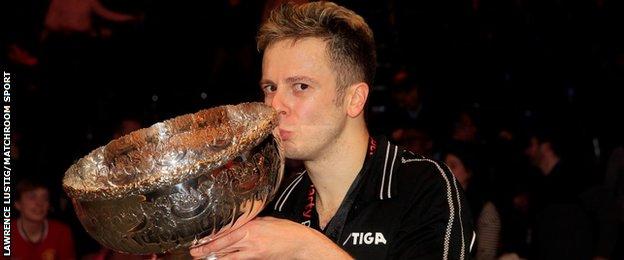 This makes spin much harder to generate and creates a slower game, with more rallies, designed to appeal to live crowds.
Baggaley, who has six Commonwealth Games medals and played at the London 2012 Olympics, beat German Alexander Flemming in the final at Alexander Palace, after overcoming Russian two-time winner Maxim Shmyrev in the semi-finals.
"I'm going to use this now to lift my table tennis career. I've won something that isn't even my sport, so that's a massive confidence booster," said Baggaley, who said he will put his winnings into savings.
"In fact whenever I play ping pong, my backhand improves in table tennis.
"This is a tournament held in London, under that spotlight, on TV - we don't have that in table tennis. I want this to be highlighted."