Paul Drinkhall last of England players out of World Championships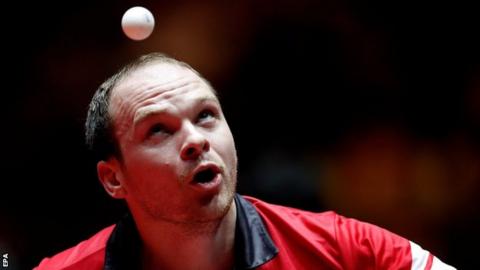 Paul Drinkhall was beaten in the last 64 of the men's singles as England's final remaining player was knocked out of the 2017 World Championships.
Drinkhall lost 4-1 to European number one Dimitrij Ovtcharov, with team-mates Liam Pitchford and Sam Walker having been eliminated a round earlier.
Walker and David McBeath made it to the last 16 of the doubles in Germany.
However, their challenge was ended by a 4-2 defeat by Taipei duo Chien-An Chen and Cheng-Ting Liao.
"I don't think we even played our best and there's a lot more to work on and improve. It's promising times for us as a pair," said Walker.
Drinkhall and Pitchford went out in the last 64 of the doubles following a 4-2 loss to India's Sharath Kamal Achanta and Sathiyan Gnanasekaran.
"Overall, I'd have like to have done better but in both the singles and doubles I got to where my seeding was, so it wasn't good or bad," said Drinkhall.
No women's squad went to Germany as the top two players - Kelly Sibley and Tin-Tin Ho - were unavailable.