Team World Cup: Groups revealed for England men & women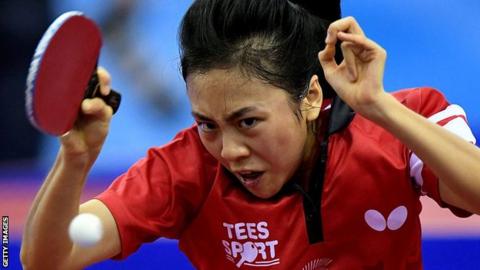 Team World Cup
Venue: London's Copper Box Date: 22 February to 25 February
Coverage: Live on the BBC Sport website and Connected TV
Where to watch:Thursday, Friday, Saturday, Sunday
England's men will face Japan and Egypt in the group stages of the table tennis Team World Cup at London's Copper Box, while the women have been drawn against Hong Kong and Singapore.
The competition begins on Thursday, with the finals on Sunday and it will be broadcast on the BBC Sport website.
Commonwealth gold medallist Paul Drinkhall leads England's men, ranked 13th in the world.
Tin-Tin Ho, 19, is part of the women's team who are bottom seeds.
The men's match against second seeds Japan is a repeat of the 2016 World Team Championships semi-final in Malaysia, which they lost, but went on to win bronze medal and qualify for London.
The Japanese have 14-year-old sensation Tomozaku Harimoto.
"It's massive to play in front of a home crowd, London 2012 was special," said England's Liam Pitchford, a three-time Commonwealth silver medallist.
"In Kuala Lumpur we competed well and surprised everyone to win a bronze medal. Of course here it will be tough, we play Japan, they have a strong young team, Harimoto especially."
England have only once won the men's event - in Bucharest in 1953, and the bronze medal in Malaysia two years ago was their first medal for 61 years in the now-biannual tournament.
England's women will be looking for their first medal since 1965.
The teams will be divided into four pools of three teams, with the bottom team in each group being eliminated from Friday evening's quarter-finals, with the semi-finals on Saturday and the final on Sunday.
England teams:
Men: Paul Drinkhall, Liam Pitchford, Samuel Walker, David McBeath, Tom Jarvis.
Women: Tin-Tin Ho, Maria Tsaptsinos, Denise Payet, Charlotte Bardsley, Kelly Sibley.
Full draw
Men's
Group A: China, Sweden, France
Group B: Japan, England, Egypt
Group C: Germany, South Korea, Australia
Group D: Hong Kong, Brazil, USA
Women's
Group A: Japan, Egypt, USA
Group B: China, Brazil, North Korea
Group C: Hong Kong, Singapore, England
Group D: Chinese Taipei, Romania, Australia