Team World Cup: England through to semi-finals after 3-1 win over Brazil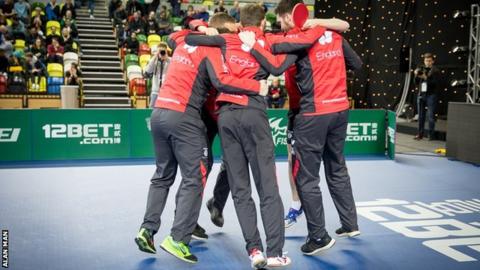 Team World Cup
Venue: London's Copper Box Date: 22 February to 25 February
Coverage: Live on the BBC Sport website and Connected TV
Where to watch:
Thursday,
Friday,
Saturday,
Sunday
England progressed to the semi-finals of the ITTF Team World Cup at the Copper Box Arena in London after a 3-1 win over Brazil.
The win, which guarantees England a bronze medal, set up a last-four tie against top seeds China after their comfortable 3-0 victory over Germany, who were without the world number one Dimitrij Ovtcharov through injury.
In the other half of the draw, second seeds Japan beat Hong Kong 3-2 and will face South Korea, who saw off France by the same margin.
Sam Walker and Paul Drinkhall fought back from 2-0 down in the opening doubles to beat Gustavo Tsuboi and Eric Jouti 3-2 (5-11 7-11 11-4 11-7 11-5). Liam Pitchford, ranked 85, then took out the world number 16 Hugo Calderano 3-0 (11-4 11-6 11-6) to put England one win away from victory.
Drinkhall led 2-0 against Tsuboi but the Brazilian left-hander came back to win 3-2 (8-11 6-11 14-12 11-4, 11-6) to keep the tie alive.
However in the fourth match-up Pitchford came from behind to win 3-1 (6-11 11-8 11-5 11-9) against Jouti to take the hosts through.
England's semi-final against China takes place on Saturday at 12:00 GMT.
In the women's competition, North Korea, ranked ninth, caused an upset by beating fourth seeds Chinese Taipei 3-0. They will face top seeds Japan, who beat Singapore 3-1.
The other semi-final pits China - 3-0 victors over the USA - against Hong Kong, who beat Romania by the same margin.