GB Taekwondo star Jade Jones prepares with jelly and cheers

By Jade Jones
London 2012 contender
Last updated on .From the section Olympics3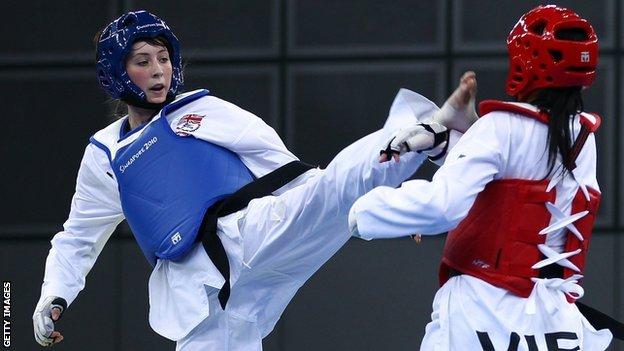 I'd just like to say thank you so much to everyone who has been supporting me, the support has been absolutely overwhelming.
So I'm just going to go there and do my best and it's just nice knowing that everyone is so much behind me.
I went home last Friday to a send-off party and that was amazing, it went on the BBC Wales news and it was just crazy how many people turned up.
You can tell how much excitement there is about the Olympics, especially with it being in London, with people who weren't even involved in sport just getting behind Great Britain.
Even for me, I didn't used to like any of the other sports but now I'm properly interested in watching documentaries on all the different sports and things around the rest of the country.
I leave to go to Loughborough for the holding camp today, so I'm just looking forward to going there and chilling out and just focusing on training and being a part of Team GB.
It's mad that it's all starting and I'm looking forward to watching the opening ceremony - I'm not going to be there but I'm going to be watching it on the TV with a few of the other athletes in Loughborough.
It's just under two weeks until I'm fighting so I'll still be training twice a day but the training has gone down a lot, because we've started to taper.
I like being later on in the schedule because I like to get a feel for the competition and it'll be really good training in that atmosphere, knowing that it's soon and getting mentally prepared.
I've studied near enough every single potential opponent and now I've just got to wait for my draw, I think it's a few days before the fight.
As it gets a bit closer we'll just be training once a day. We used to train for quite a few hours and it was intense, now it's just short, sharp and getting the speed going.
My preparations have gone really well, I've had the best prep that I could have had really - I've got a really good team behind me and I just started to feel sharp the last couple of days and I'm just hoping that continues and I'm at my peak on the day.
With taekwondo anything can happen really, you get bad days, you get good days of training so you've just got to hope that you're on it on your day.
The whole squad is buzzing and we just can't wait to get in there really.
There's a lot of expectation and we'll have a lot of people watching taekwondo because for a couple of years now we've made history in the Worlds and we've made history in the Europeans, so everyone is looking to see if we can do the same and make history here.
The athletes are all excited and we're just trying to rise to the pressure.
It was hard at first with all that going on over Aaron Cook not being selected and it wasn't really fair on us because we just wanted to concentrate on us.
We weren't really getting that much recognition because it was just about who wasn't going to the Olympics and I don't think it was fair on the team because, as I said earlier, our team's made history and is just getting bigger and better.
So how everyone can slate it just from one decision is wrong, but we're all knuckling down now and our team is very close and we all stick together, it's just about going in there to do the job now.
Everyone has a few little quirks in their preparation - I just tend to do the same sort of things as I did in previous competitions - but there's nothing too weird, sticking with lucky knickers or socks! For instance I'll see my family the day before a fight but won't see them on the day.
I've got an eating plan that I'll eat the exact things that I've eaten before.
I just like to have cereal in the morning, but it'll be those cluster things - it's a bit random - and through the day I like just pasta, plain pasta with a bit of sauce on it, never too much in case I get a bad belly... and jelly just before I go on for a bit of energy!
Jade Jones was talking to BBC Sport's Bruce Pope