Sarah Stevenson uncertain on retirement plans
Last updated on .From the section Taekwondo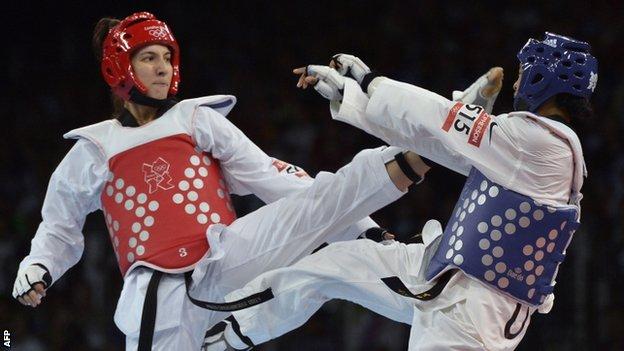 Taekwondo world champion Sarah Stevenson is not ruling out continuing in the sport until Rio 2016.
"It's hard for me to say at the moment, I just need a break," she told BBC Radio Sheffield.
"I said last time that I wasn't sure about London and I was there so I'll just take each year as it comes."
She added: "I'm going on holiday and I'm going to take a few months off and see where that goes but I will carry on training."
Stevenson, who read the athlete's oath in the opening ceremony of the London Games, had surgery on a cruciate ligament problem in February but was still expected to beat McPherson.
Despite her disappointment at not adding to the bronze medal she won in Beijing, Stevenson is now hopeful of helping to inspire a new generation to take up the sport.
"I want to see where this legacy is going to go and I'd like to be a part of it," she continued.
"Ten years ago I was the only female competitor for our country and it's great to see how the sport has come on since then.
"I don't just want to stick to taekwondo, I'd like to inspire athletes in other sports too. I'd hate to leave sport and do a normal job, I want to be involved."