Sarah Stevenson: GB Olympian ends taekwondo fighting career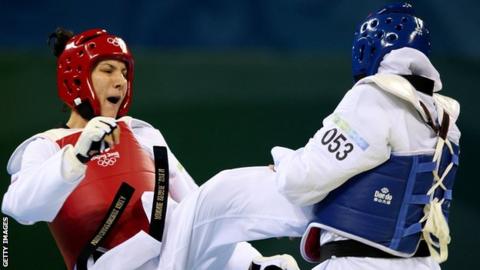 Olympic taekwondo bronze medallist Sarah Stevenson has decided to retire.
The Briton, 30, who competed at four Games and was third at Beijing in 2008, will become GB Taekwondo's first-ever female high performance coach.
"Retiring was a difficult decision," Stevenson, who became a world champion in 2011 but has struggled with injuries in recent years, told BBC Sport.
"I wanted a break after the Olympics to see if I missed it. I didn't and I don't want to fight again."
The Doncaster-born fighter hit the headlines after successfully appealing a controversial elimination and overcoming a serious ankle injury to claim Great Britain's first-ever taekwondo Olympic medal in China in 2008.
She then claimed an emotional victory at the 2011 World Championships in South Korea.
Just months earlier, both her mother, Diana, and father, Roy, had been diagnosed with terminal illnesses.
"The last two years have clearly had a massive impact on my life and the taekwondo family knew what I came through to win at the 2011 worlds, which has to make it one of my biggest highlights," said Stevenson, who made her Olympic debut at Sydney 2000.
Stevenson was named the Sunday Times Sportswoman of the Year in 2011 and was chosen by her fellow Team GB squad members to read the athlete's oath during the London Olympic opening ceremony last year.
Stevenson had suffered cruciate knee ligament damage nine months before the Games but battled back to fitness in time to compete.
However, she was eliminated in her opening fight by eventual bronze-medallist Paige McPherson of the United States.
"After going through what I went through, I am proud to say I couldn't have done any more," said Stevenson, who said she considered trying out basketball and athletics before accepting a coaching role with the British taekwondo squad.
Stevenson recently underwent hip surgery, which stopped her defending her world title, but she says the injury did not have a major impact on her decision to quit.
"It isn't as bad as I've had in the past and I think it's something I could have battled on with, but I'm proud I've made the sensible decision," said the four-time European champion.
Stevenson's achievements paved the way for other British women to emulate her success in taekwondo, notably Jade Jones, who became Olympic champion in London.
"The amount of girls coming through now is great," said Stevenson. "People can see you can be a strong woman and be feminine at the same time."
Of her new role, she said: "There aren't many female coaches out there - we definitely need more - and to be the first female high performance coach in taekwondo is something I'm really proud of."
New British Olympic Association chairman Lord Sebastian Coe praised Stevenson's contribution, describing her as "a trailblazer for her sport".
He added: "Her pursuit of excellence has been tireless and she reached the pinnacle of her sport through dedication and sacrifice."
UK Sport chief executive Liz Nicholl was equally forthcoming with her praise, saying: "Over the past decade, Sarah has been a truly exceptional figure in British Olympic sport.
"Having won Great Britain's first Olympic taekwondo medal in Beijing, she paved the way for the success the sport has enjoyed since.
"Throughout her career Sarah has competed and won at the very highest level, often in the face of adversity, and has demonstrated remarkable determination and resilience."