Lutalo Muhammad steps up world taekwondo preparation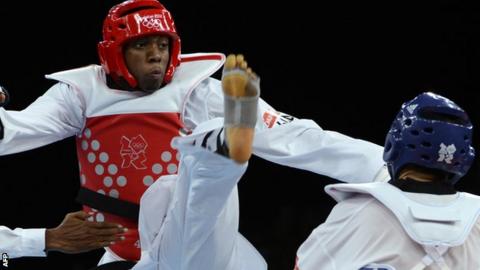 Olympic bronze medallist Lutalo Muhammad will make his return to competitive taekwondo at the Spanish Open in Alicante on Saturday.
Muhammad, 21, has not fought since defeating Armenia's Arman Yeremyan 9-3 to finish third at London 2012, after a series of niggling injuries.
"I have taken time to get them sorted out and I feel better for it - stronger than ever," said the fighter.
The 12-strong GB squad also includes Olympic champion Jade Jones.
The Spanish Open is likely to be the team's final competitive fixture before the World Championships in Puebla, Mexico from 15-21 July.
"It will be a really tough field because a lot of countries are looking at the Spanish Open as their final fights before the worlds," said Muhammad.
"I am feeling very positive. We've had some Test matches in Manchester this week and things went well."
Muhammad was a controversial choice for Great Britain's sole place in the -80kg division for London 2012 - ahead of then world number one Aaron Cook.
The London-born fighter won bronze and is now returning to the -87kg category, in which he claimed a European title last year.
"I have had my 15 minutes [of fame] after the Olympics," said Muhammad, "but I am aware the Olympics were 2012 and I am really looking to 2013.
"The World Championships are the only thing on my mind right now."
GB Taekwondo squad for the Spanish Open in Alicante:
Men: Amin Badr (-58kg), Jordan Gayle (-63kg), George Lee, Michael Harvey, Martin Stamper (all -68kg), Ruebyn Richards (-74kg), Andrew Deer (-80kg), Lutalo Muhammad, Damon Sansum (-87kg).
Women: Jade Jones (-57kg), Stephanie Allen (-73kg), Bianca Walkden (+73kg).