Britain's Martin Stamper in surprise defeat at World Championships
By Nick Hope
BBC Olympic sports reporter
Last updated on .From the section Taekwondo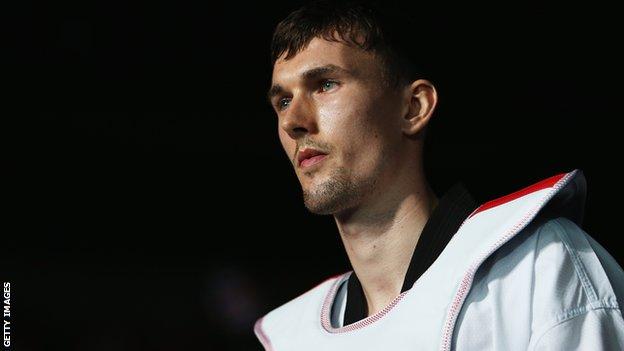 Olympian Martin Stamper will take a "long hard look" at his taekwondo future after a surprise World Championship opening-round defeat.
Stamper, 26, was the third seed but lost 5-3 to little-known Egyptian Ghofran Zak in Mexico.
It was huge blow to the British fighter who was looking to avenge his loss in the bronze medal bout at London 2012.
"I wanted a gold medal today and I worked hard all year but something isn't quite right," he said.
"It wasn't good enough - nowhere near and now I don't know. I need a long time off with my family and see where I go from there."
Earlier this month Stamper admitted he had considered quitting the sport as he struggled to deal with his failure to win an Olympic medal.
However, his form improved dramatically at the beginning of 2013 as he won gold medals in both Germany and Spain.
"It's a weird one because at the start of the year everything picked up and was good and I was enjoying training and loving taekwondo," Stamper told BBC Sport.
"Leading into this [World Championships] I didn't feel 100%, even though we worked so hard on the fitness I just never really felt myself."
The Liverpool-born fighter became a father in late 2010 and went on to win an incredible 27 out of 29 fights the following year - culminating in a World Championship bronze medal in South Korea.
With this latest defeat and his daughter Ava approaching her third birthday, he feels it may be time for a change in priorities.
"I always put my family second behind taekwondo because I want to do the best whilst I'm doing it," stated Stamper.
"Even though I'll more than likely go back to training I'm definitely going to spend more time with my family and put them first because you don't get that time back."
Stamper has expressed an interest in working as a coach with the GB Taekwondo team after he finishes competing.
If he does continue his next major competition is likely to be the inaugural World Taekwondo Grand Prix Series event in Manchester in December.